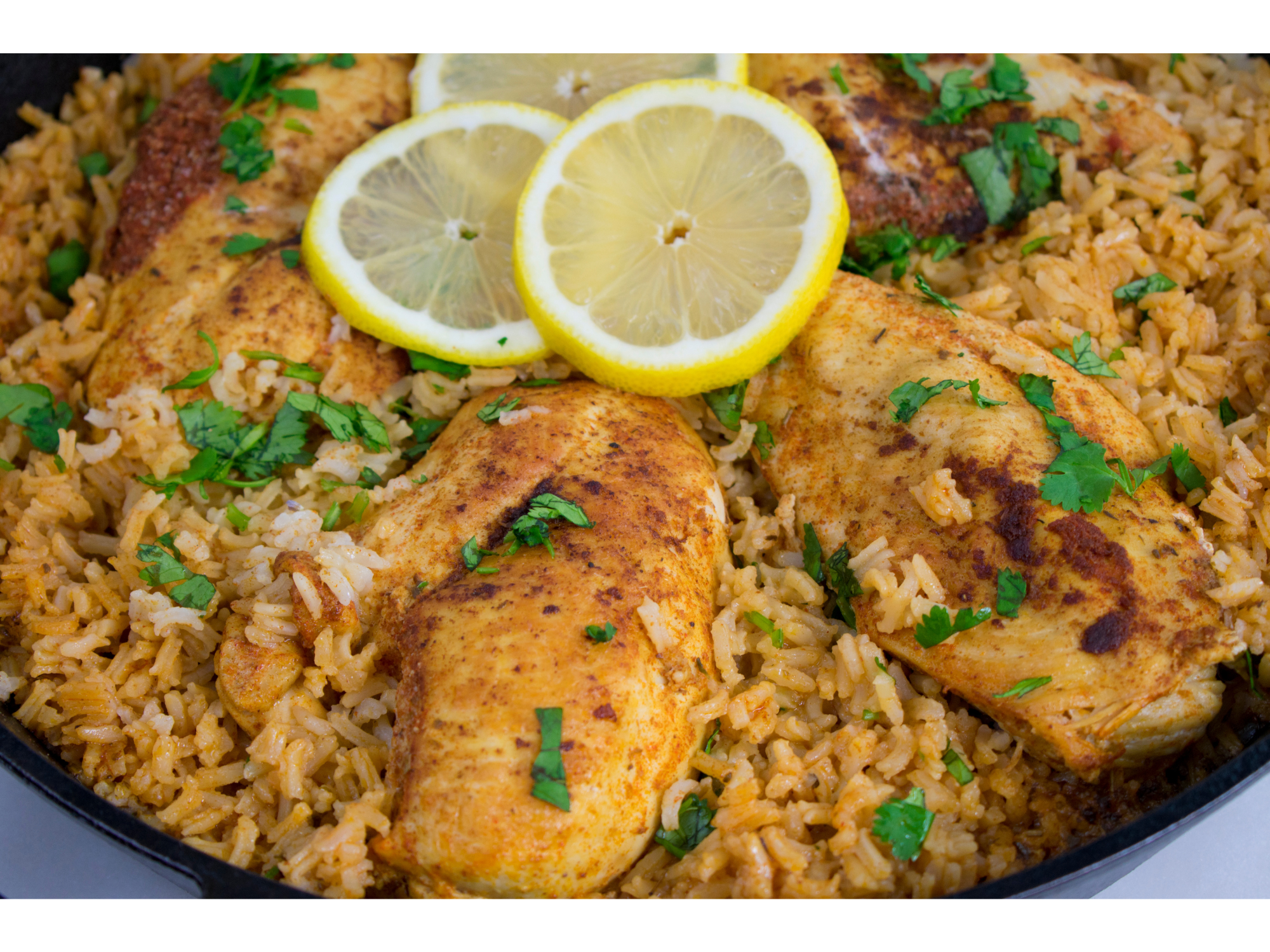 My whole family loved this dish – even the kids, who are terribly picky, and have avowed never to let a vegetable cross their lips.  They didn't even notice the onions and the garlic!   Will definitely add this to the rotation.   – Aimee from Wisconsin
My Cuban grandmother made this recipe all the time.  Use long-grain rice instead of basmati if you want real authentic flavor!   Also, use green bell peppers instead of ginger, yellow onions instead of scallions, and salt instead of soy sauce.    Perfect.  – JorgeT
I substituted tofu for the chicken, and hominy for the rice; and I didn't have any ginger or garlic so I left them out.   Bland and gummy.   Would not make again. –Vegan Bob
Sauteed the rice in a little extra olive oil before adding the broth, and then topped the whole dish off with a poached egg – absolutely delicious.   – PaulineDR
Doubled the recipe, just for the leftovers, and it came out great!   Will have enough for dinner for the whole family three nights this week! -- Aimee from Wisconsin
PaulineDR, why would you put an egg on a chicken dish?   This recipe was written by a cookbook author with years of experience cooking in restaurants and developing recipes.   I don't think her work needs suggestions from an amateur home cook.  – BTB
BTB, good cooking is a creative act, and I can do whatever I want.    If you want to be a slave to instructions, that's on you: the rest of us don't need to hear about it. --PaulineDR
This is exactly like a favorite dish that my Korean grandmother used to make!  Only she cooked it in a clay pot, and served it with gochujang on the side instead of the scallion/ginger mix in the recipe.  Also, obviously:  jasmine rice.    A taste of my childhood… MLee from Maplewood
Recommend adding a scoop of Breyer's all-natural Vanilla Bean ice cream to top it off – everything's better with ice cream!   -- RT
PaulineDR, REALLY: "Put an egg on it" is so hackneyed.  It's almost as bad as your comment on Marian Burrough's Classic Plum Cake.  It's right there in the name:  CLASSIC.  And PLUM!   Subbing blueberries:  ridiculous.  -- BTB
How about a keto-friendly version of this dish?   Any suggestions?  -- Jenna J.
BTB, why bother to write a recipe note if you have nothing original to add?   I subbed blueberries in the cake because that's what I had on hand.  You probably run to the store every time a recipe calls for a sprig of cilantro, rather than making due with the parsley in your fridge.  So inflexible.   -- PaulineDR
For Keto-friendly, trying swapping cauliflower for the white rice, and add a big scoop of (pasture-raised) lard just before serving.   – Keto Karl
Made double batches three weeks running.   So easy, and I can cook by heart at this point, without looking at the recipe!    – Aimee from Wisconsin
I don't know why you need to sauté the onions, garlic and chicken before adding them to the rice. I just put everything in one big pot and baked it for an hour.  It was fine!  Nobody got sick, and they finished at least half of it.   Why dirty the extra pots if you don't need to?  -- SelmaS
The kids have been complaining about this lately—what a disappointment.   Maybe it's the vegetables?   Will try it without the onion and garlic next time … Aimee from Wisconsin
PaulineDR, The point here is that you cannot make a plum cake with blueberries:  it's a different thing.   Just like eggs don't belong in chicken dishes, regardless of which came first. It's impossibly arrogant to think otherwise!   Not surprising, though, coming from you:   Mom always acted like you walked on water. -- BTB
Such a lovely dish, and so reminiscent of my Bubbe's kitchen in the Bronx!   Only she never cooked rice:   she would have used potatoes.   And maybe also brisket instead of chicken.   Talia L.
My children are begging to eat something – anything – else, even a meal of steamed broccoli. Would not recommend.   Aimee from Wisconsin