It's Fashion Week in New York City.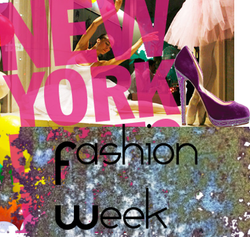 Actually, Fashion Week began last Thursday, a full four days ago – the fact that I am just catching on is proof enough of just how unfashionable I am, here in unfashionable Boston.   
Further proof of my lack of fashion savoir faire:  it would never occur to me to begin a Week on a Thursday.   Anyone inclined toward symmetry would pick Sunday or Monday to begin a Week.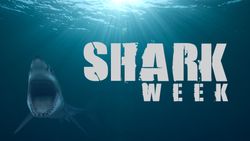 Shark Week, for example, ran from Sunday, August 4 through Friday, August 9.   Which raises the question:  why only six days for Shark Week?   Are the sharks taking Saturday off in observance of Shabbat?    
The sharks may indeed be Jewish; but the fashionistas, apparently, are not.   The first day of Fashion Week corresponds to the first day of Rosh Hashanah.   So any observant Jews wishing to start 5774 on a more fashionable note will need to bide their time and wait until Yom Kippur to strut their stuff.
Two years ago, I actually found myself in New York for Fashion Week.  I was spending a semester in NY with my husband, who was teaching at NYU on his sabbatical from the more prosaic Boston-area university where he normally teaches.   We lived (all too briefly) at the edge of the Meatpacking District, one of NYC's several fashion centers.  There, in the fashion heart of the fashion city, I quickly learned what defines fashionable clothing:
It is more expensive than mine
It is (at least) two sizes smaller than mine
It has shorter hemlines and lower necklines than mine
It has fewer stains than mine
So Fashion Week did not transform me into much of a fashionista.  But I definitely stepped up my game when I was in New York.   It is a walking city; I walked four or five miles most days, on unforgiving pavement.  So these super-comfy, well-padded shoes should have been perfect: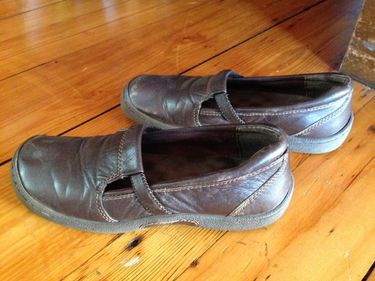 Not a chance.  They are the Ugliest Shoes on the Planet.  I shoved them in the back of the closet and didn't touch them until it was time to move them home.   Of course, I wasn't exactly mincing around the city on Jimmy Choo platforms or Christian Louboutin spikes; I am, after all, a middle-aged  woman with a bad back and a bum knee.    There are limits.  Most days I settled on a pair of ballet flats that left my feet sore but my knees intact.   And it felt great.
When I was younger, my mother used to say that you should never leave the house without putting on your makeup and pulling yourself together, because the one time you did, you'd be sure to run into someone you knew.  In New York, I never, ever ran into anyone I knew, not once.   And yet in New York, I never left the house without putting on my makeup and pulling myself together.   I got a good haircut.   I learned how to tie a scarf.   I accessorized.
Back in Boston, where dowdiness is considered a civic duty, I have regressed.   I swore I'd get rid of the Ugliest Shoes on the Planet; but somehow they remain in my closet, and they find themselves on my feet more often than I'd care to admit.   When someone compliments me on something I'm wearing, I feel obliged to tell them how comfortable it is, or how I bought it on sale.   Real beauty comes from within, after all.  Too much attention to my appearance would only reveal how shallow I am, or how profligate, or how oppressed by mainstream notions of how a woman should look.
But I miss that sense of putting on a game face before I leave the house.   I wish I could still wear my fabulous Vampira-red lipstick without feeling self-conscious; in New York, I didn't give it a second thought.  There are a couple of fun dresses I bought in New York; in Boston, I have worn each exactly once: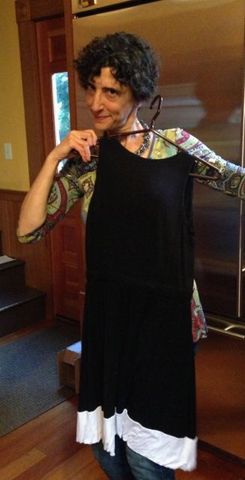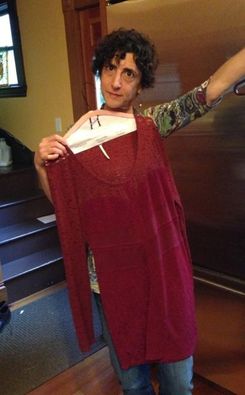 In New York, I wore these dresses out to dinner all the time; here, it feels like they show a little too much leg, a little too much cleavage.   I choose the black pants instead.
But it's too bad, don't you think?  Those dresses are awfully cute.   And so comfortable!   What's more, I got them on sale.