The right number of extension cords:   four 
The right number of plastic buckets:  one 
The right number of reusable shopping bags:   eight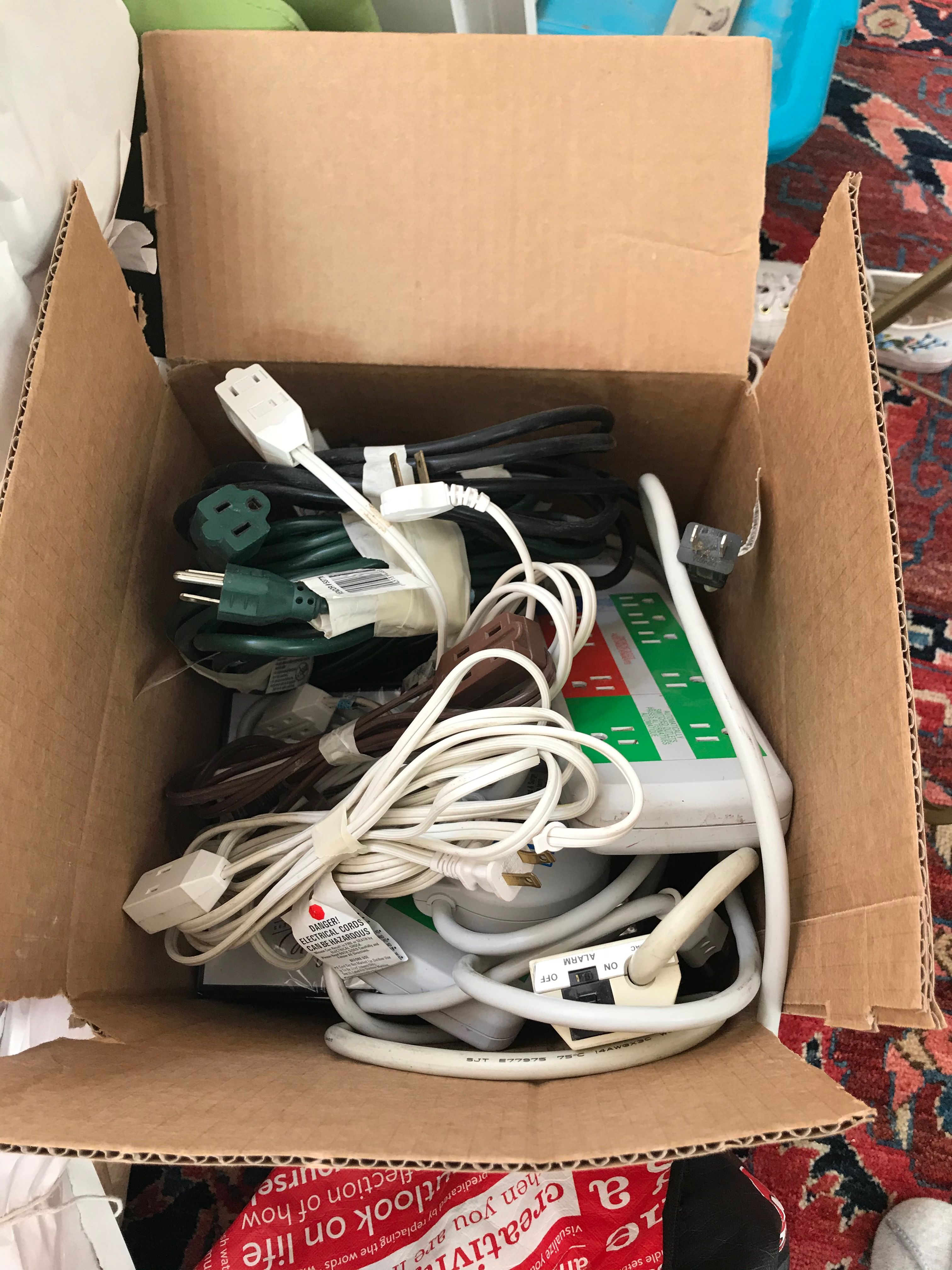 We have just moved, out of a rental apartment in Boston's South End and into a condo just a couple of blocks away.    Our last move was almost exactly a year ago, when we sold the rambling Victorian in suburban Newton in which we had lived for 21 years.   We got rid of a ton of stuff at the time – about 2/3 of everything we owned.   We put some things in storage, uncertain what our permanent move would look like, and moved just the right amount of furniture and housewares into our 900-square foot, almost-2BR rental. 
The morning of March 13th, near the end of a modest renovation to our new condo, we had movers deliver everything we had stored into one of the bedrooms in our new home.  The idea was that we would sort through all of it over the following three weeks or so, moving along whatever we could no longer fit or no longer needed. 
The afternoon of March 13th, my mother died.  And then the world shut down. 
The move that was supposed to take place in mid-April finally happened in late May. Our new place is in the middle of the city but on a quiet street.   It is lovely and bright and leafy and I am thrilled to be here. 
Moving at this moment of the world is more of a challenge than it might be at other times, for obvious reasons.  It is also a challenge in some less-than-obvious ways, particularly if your plan involves a major thinning of your belongings so that everything fits comfortably into a 2-bedroom condo with modest (albeit recently-expanded) storage capacity.   Our process of thinning out the excess was supposed to unfold over the better part of a month.  Things being what they were, the process was condensed into about a week. 
The right number of rags:  three small bags, one for the kitchen, one for the cleaning supplies in the downstairs bathroom, and an extra rag bag in the storage space under the stairs just in case there's a really, really big mess. 
The right number of high-quality canvas tote bags:   one 
The right number of high-quality canvas tote bags bearing the Harvard insignia:  none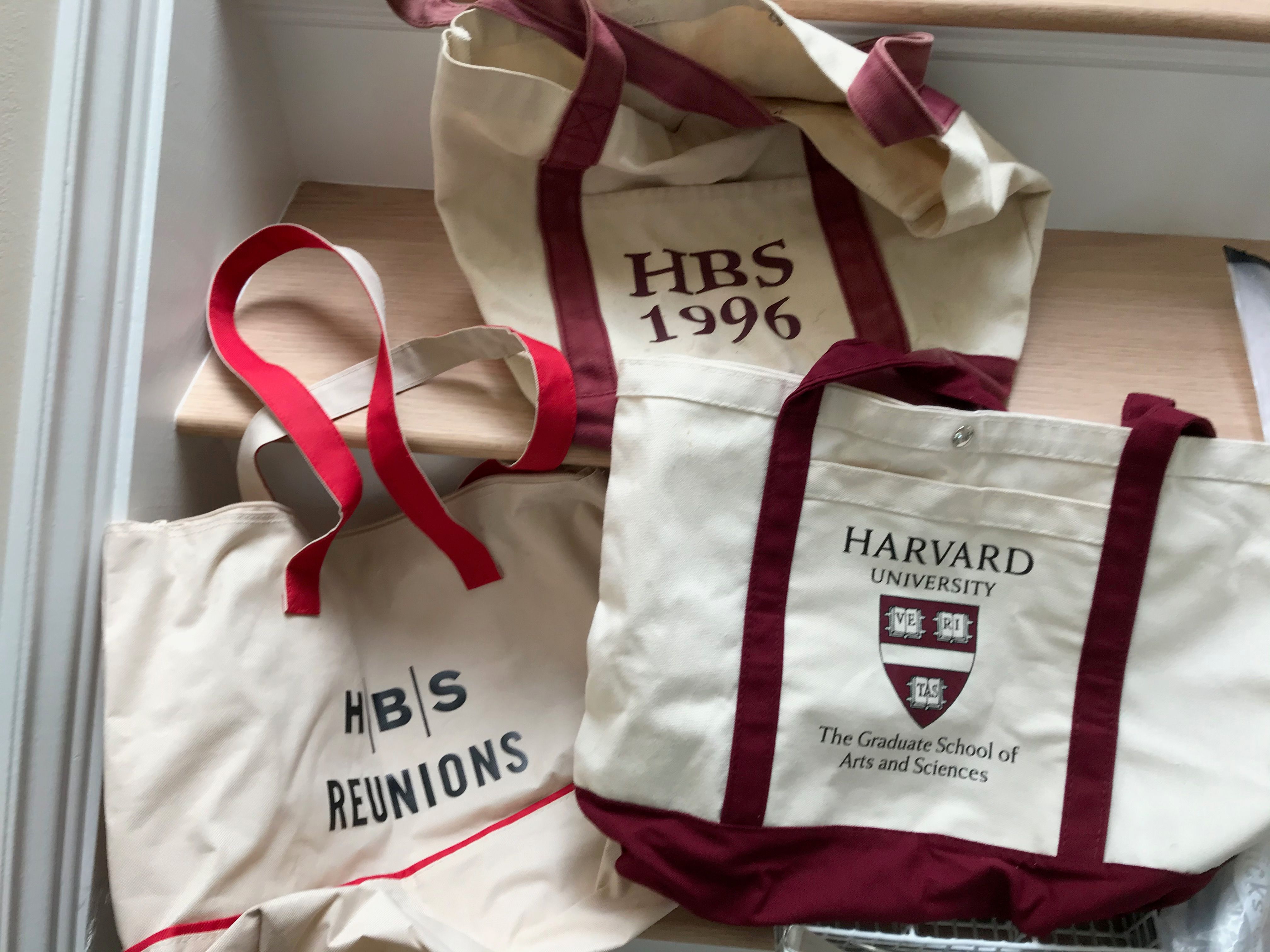 It is not all that easy to donate excess stuff at the moment.  For most of May, the only place we could find that was open for donations of any kind was a wonderful organization called More than Words, which runs two used bookstores staffed entirely by at-risk teens; they were (and of course still are) accepting books. 
The right number of books is what will fit on these two shelves: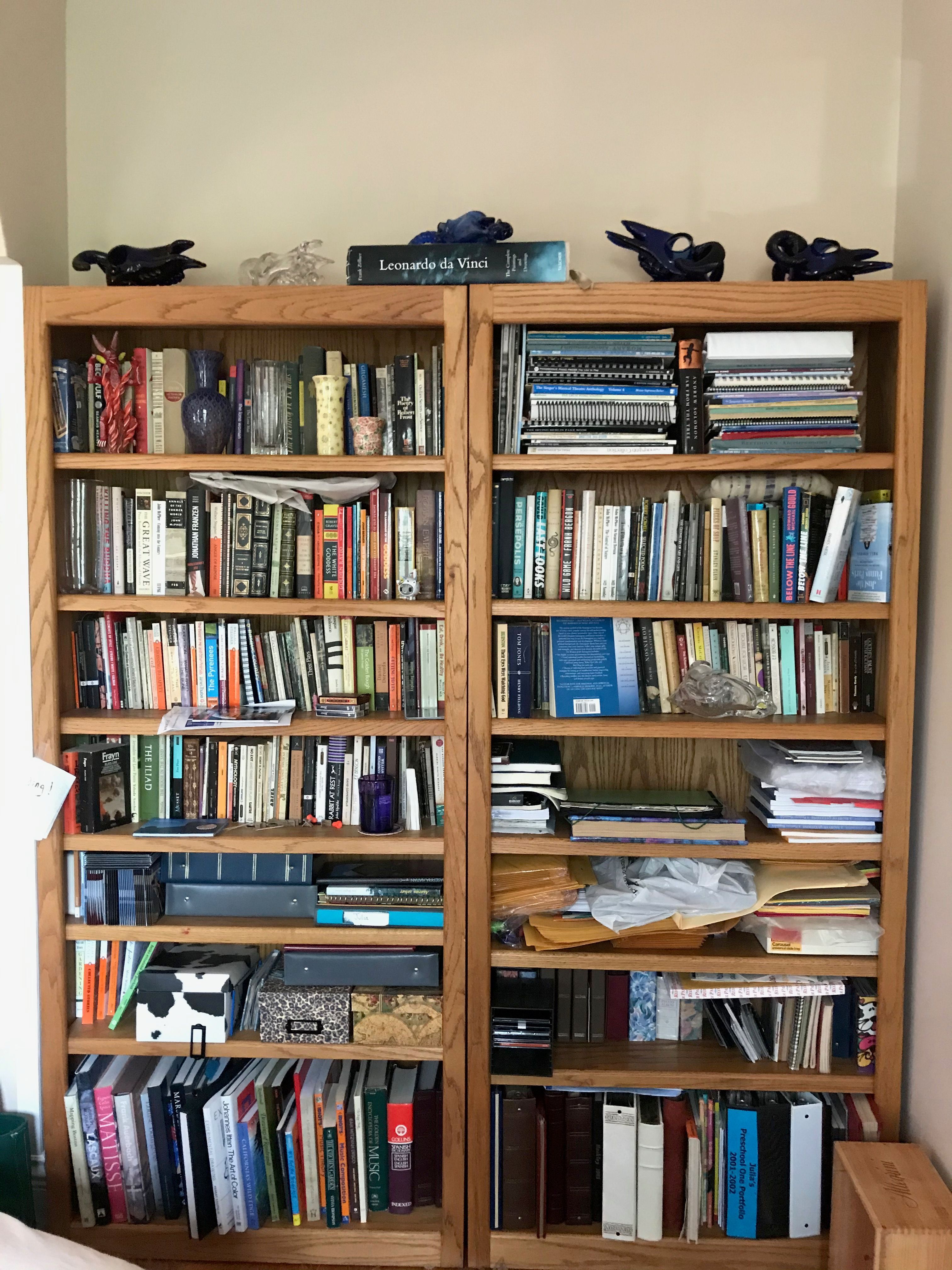 So we busily packed up all the Trollope and the Jane Austen.   I adored Trollope's Palliser novels, but will I ever read them again?  Not likely.  I probably will read the Jane Austen again (just re-read Emma, in fact); but since they are instantly available on my Kindle, and for free, I don't really need the paper versions in order to have them at my fingertips.   
The right number of cookbooks for the year we rented, we decided last May in a completely arbitrary manner, was seven; we picked out our seven absolute favorites and kept them with us for the year (Ottolenghi's Jerusalem; a Basque cookbook by Teresa Barrenechea; the Chad Robertson Tartine book about whole-grain breads).   We did a major thinning of cookbooks before we moved a year ago, but stored many more.   Once we pulled boxes of remaining cookbooks out of storage, we found that another significant pruning was in order.   So we sorted the cookbooks into a bar chart, because that's just the kind of people we are.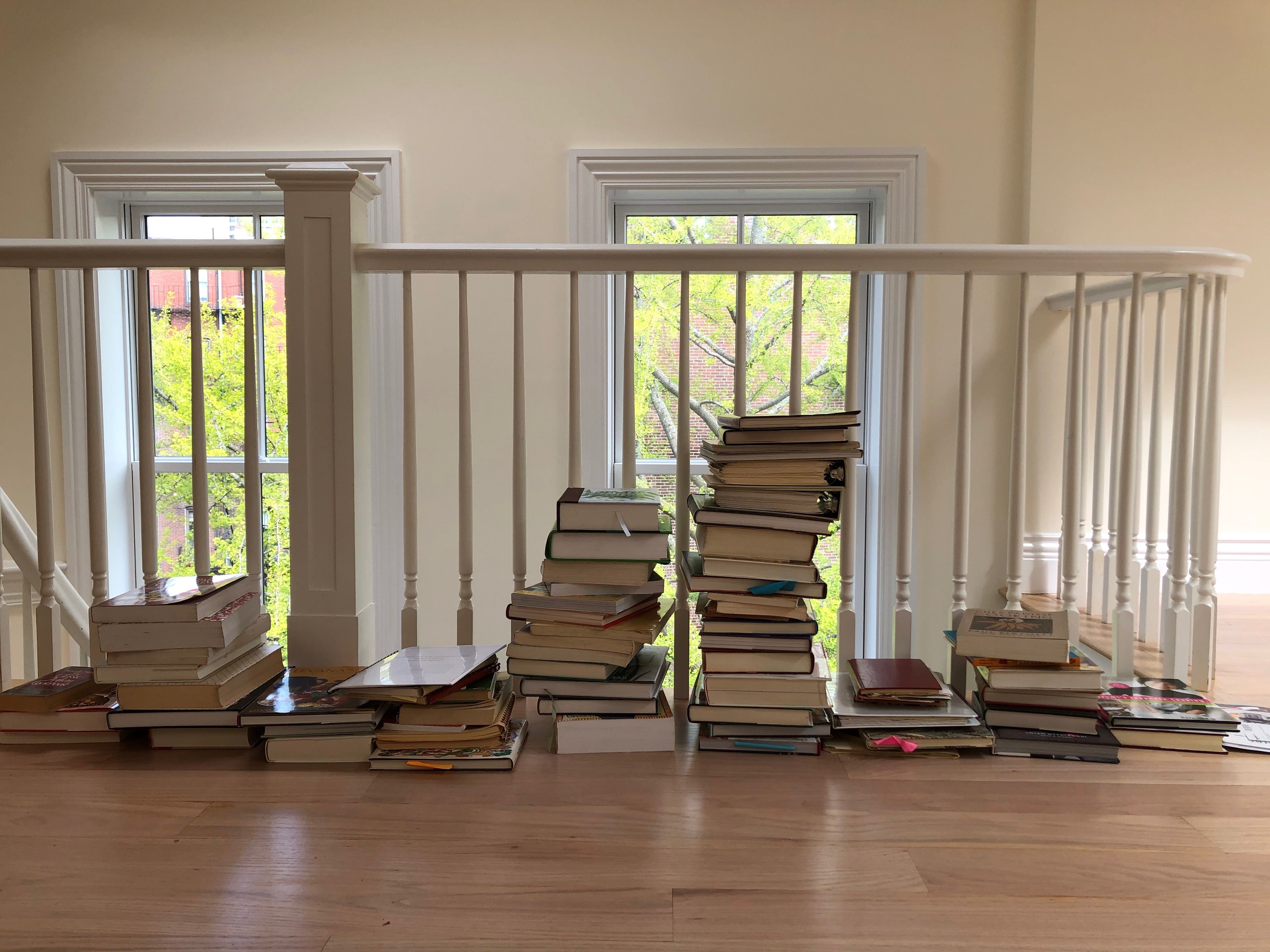 The tallest stack, in case you are wondering, included books about baking bread; vegetable cookbooks took second place.  Next highest piles were cookbooks about Jewish and Basque cuisines.    Steve insists that the Jewish bar was taller than the Basque bar.   But I claim that some of the books were mis-categorized. Statistician that he is, Steve should be the first to admit that data analysis is not all that meaningful if the data is insufficiently scrubbed. 
The right number of umbrellas: four, plus a folding one that lives in the car 
The right number of umbrellas with the Harvard insignia:  none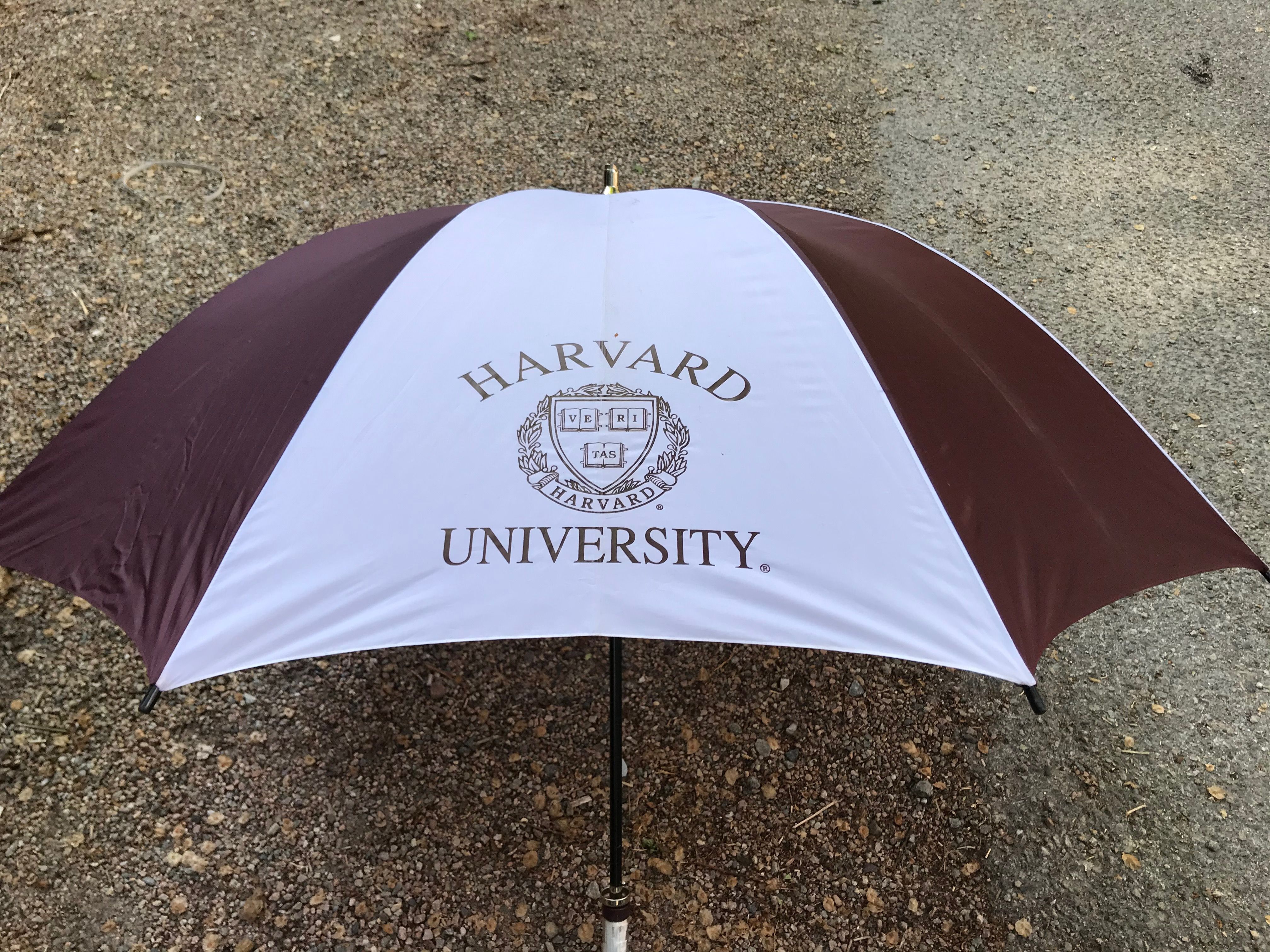 The right number of keys for this cabinet:   three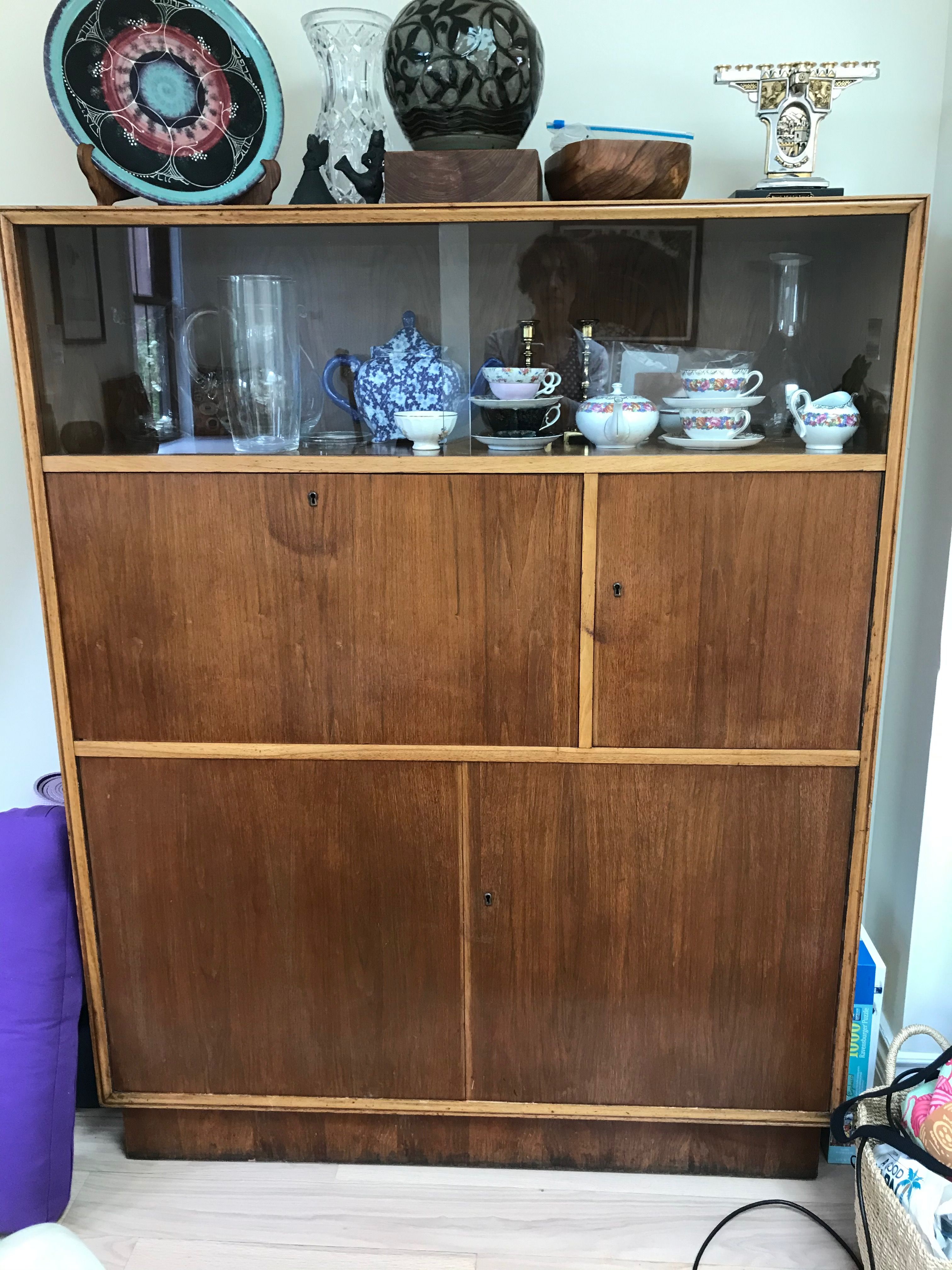 I own two of these cabinets, which used to belong to my grandparents.  I have always loved them, and they are extremely useful in a space where storage is in precious short supply.   They are not antiques, but they are old school, and they open with keys that look like this: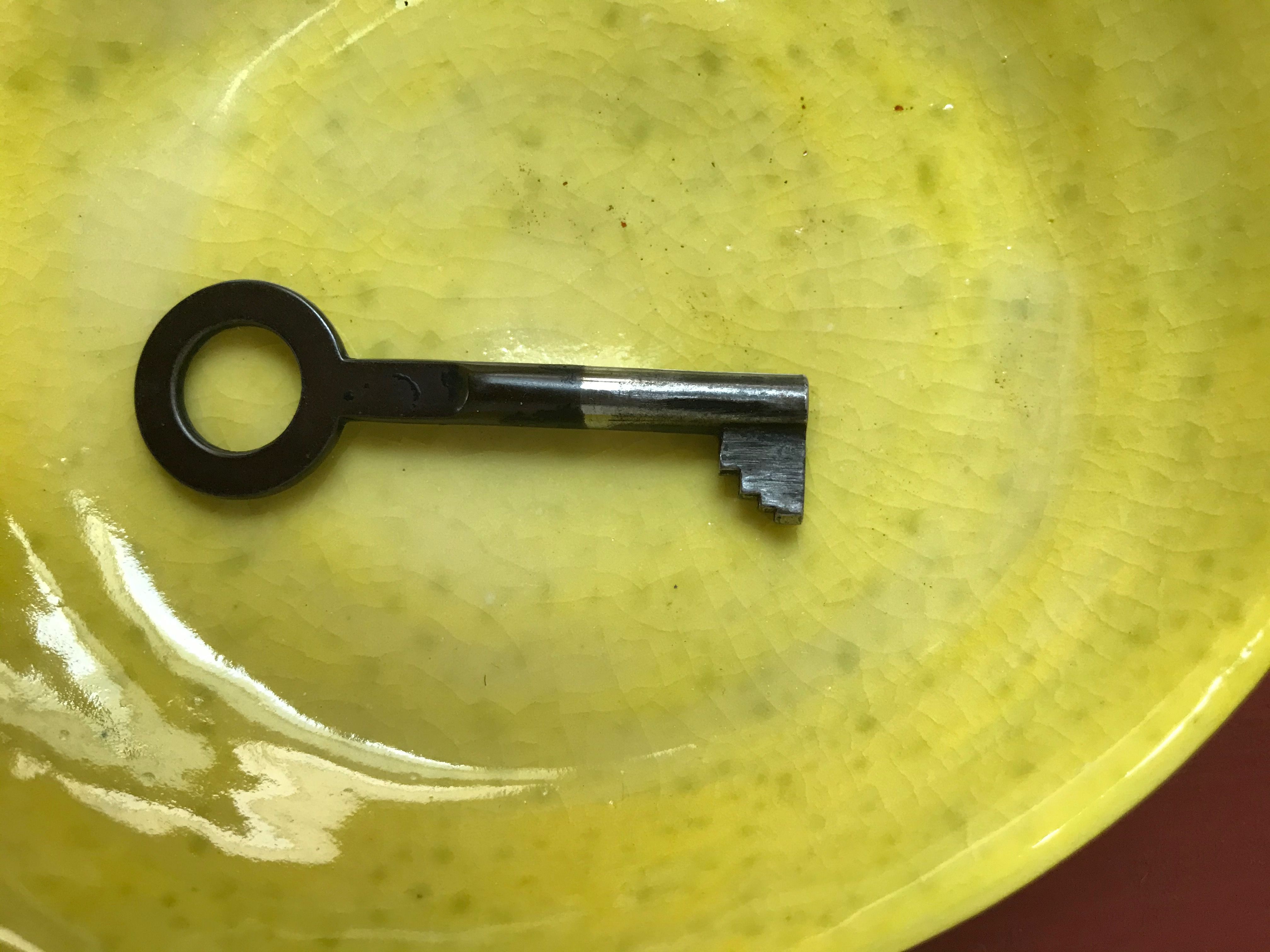 All through the years our children were growing up, we impressed upon them the extreme importance of NOT EVER LOSING THE KEYS, because without said keys, it would not be possible to access the interior of the cabinets.  And our kids did a great job, always returning the keys to the little ceramic cup that was their home.   When we put this particular cabinet into storage last May, we worked with the movers to find a very special, foolproof way to store the keys so that they would not, under any circumstances, be lost. 
You see where this is going.  
Also missing in action:   both the cordless mouse for my Mac, plus the corded spare I always kept in case I let the battery run down.   And nowhere to be found are the seven absolute favorite cookbooks without which we decided we could not live during the past year.   Go figure. 
The right number of folding chairs:   the lesser of the number of large plates or the number of full knife-fork-spoon combinations, minus the number of table-friendly chairs normally in use 
The right number of reading glasses:   2r + 1, where r is the number of rooms in your house (the extra is for your purse) 
The right number of clothes hangers:  way less than this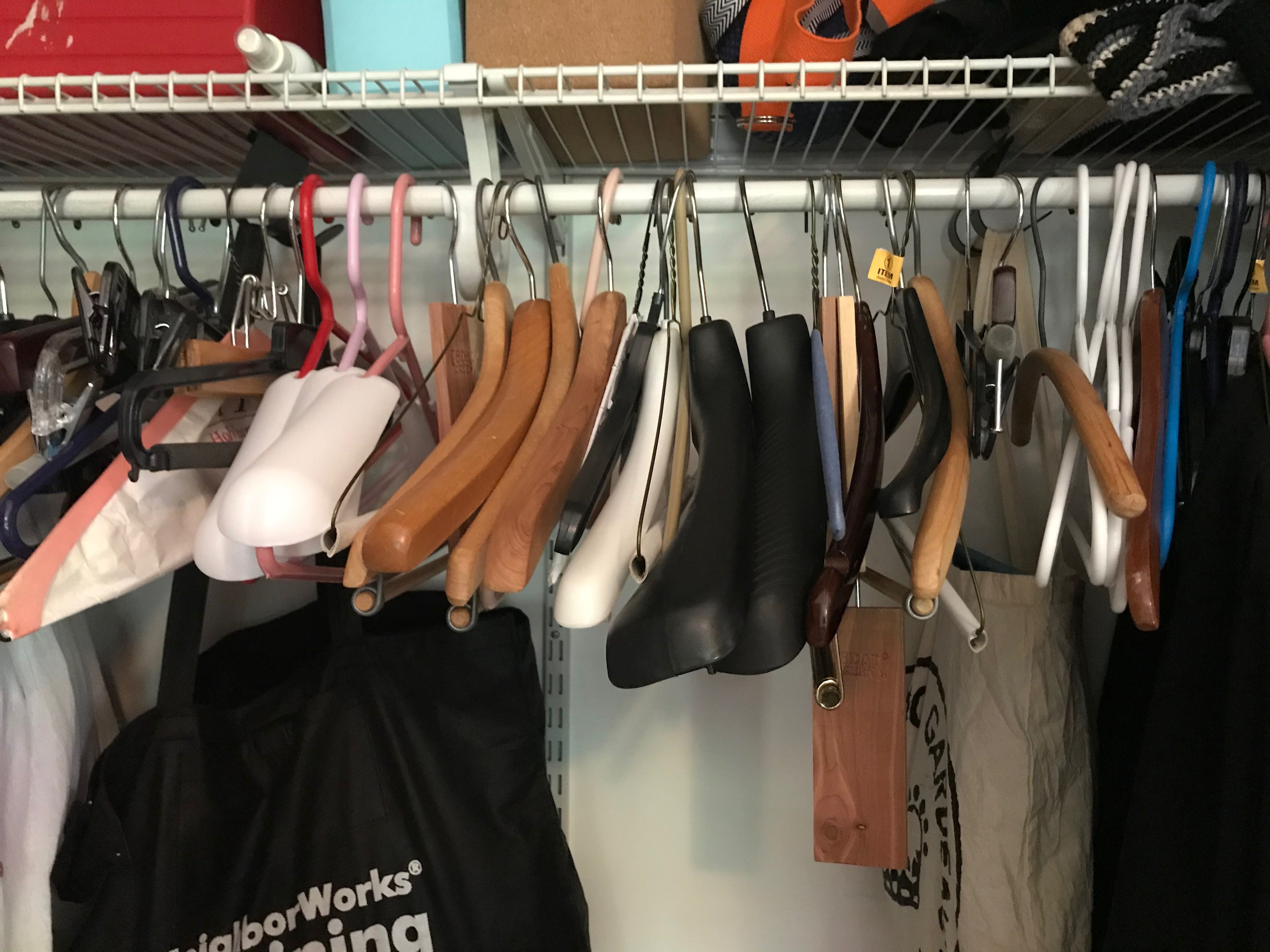 The best decluttering resource we've found has been the neighborhood listserve "NextDoor," in the "free and for sale" section (we always choose "free").   We have, in short order, given away:   three folding chairs, 11 wine glasses, a drying rack that was a little too large to fit in the closet with our washer/dryer, a towel rack (someone bought that to turn into a big free-form sculpture), a cork board, a shower chair, a back support pillow, two enormous folding outdoor loveseats that the previous owners left behind, and a package of light bulbs we bought in the wrong size and couldn't return.    You post something and it's gone, sometimes within just an hour or so.  It's magic.   I have not yet tried posting the hangers, I must confess, because I'm just a little bit embarrassed. 
The right number of CDs from the two albums I've made:   10 of each 
When I recorded the albums, it was actually cheaper to print 1,000 CDs than to get the 300 I really thought I could use.   And I harbored fantasies that my songs might go viral (a more charming, if less evocative, metaphor in earlier years) and that I would actually sell some of them.   But sales remained in the low double digits; and the CD as a technology is now more or less obsolete.  For the last few years the only person who actually used and distributed these CDs (for free, of course) was my mother.  And, well. 
So I bagged up hundreds and hundreds of these precious CDs and put them out with the trash.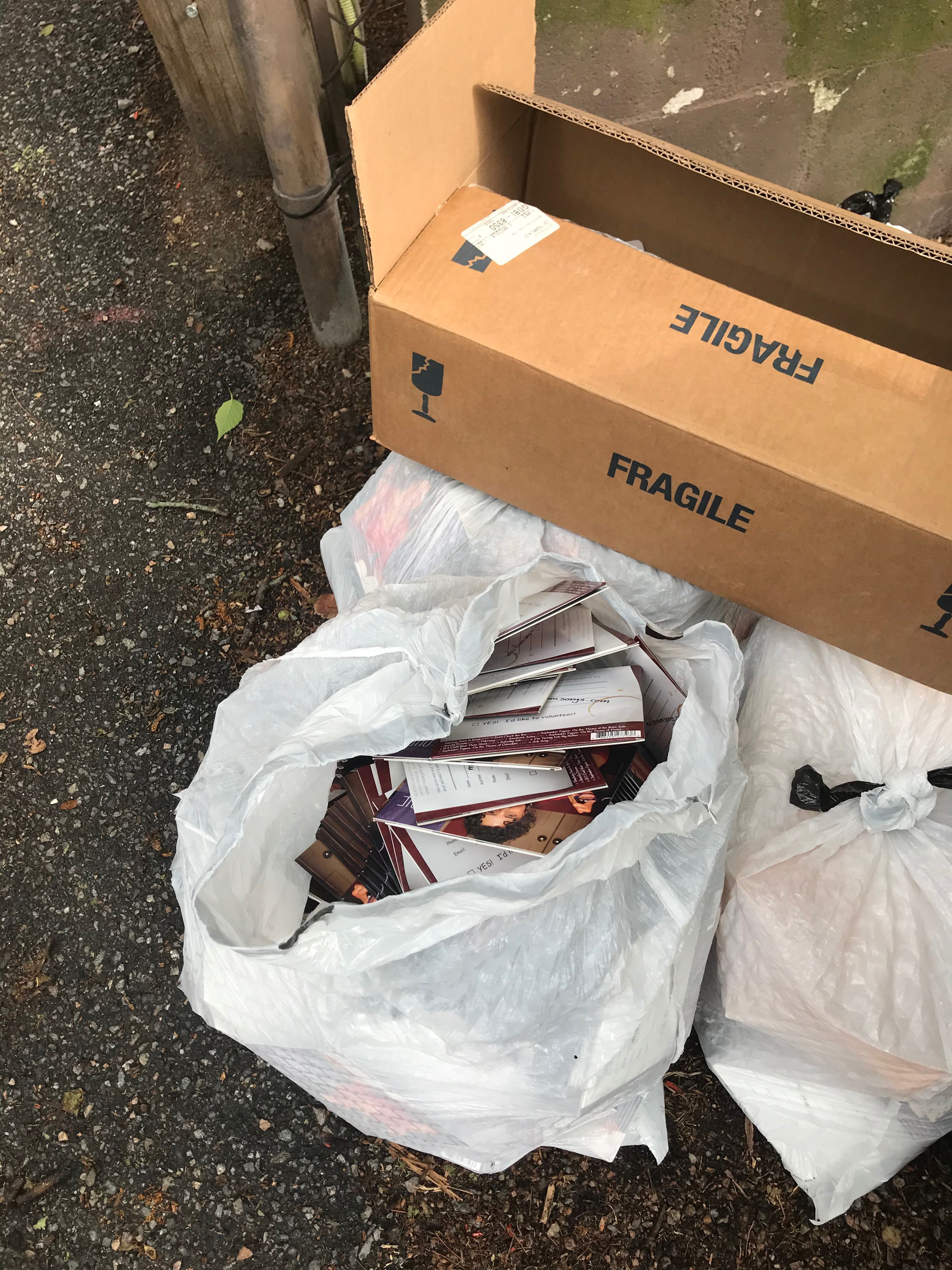 "Kill your darlings," William Faulkner famously said; although he had something a little different in mind.  
For the record, you can listen to both albums for free on Spotify -- and I'd be delighted if you would:
The right number of glass ram skulls:  A matter of debate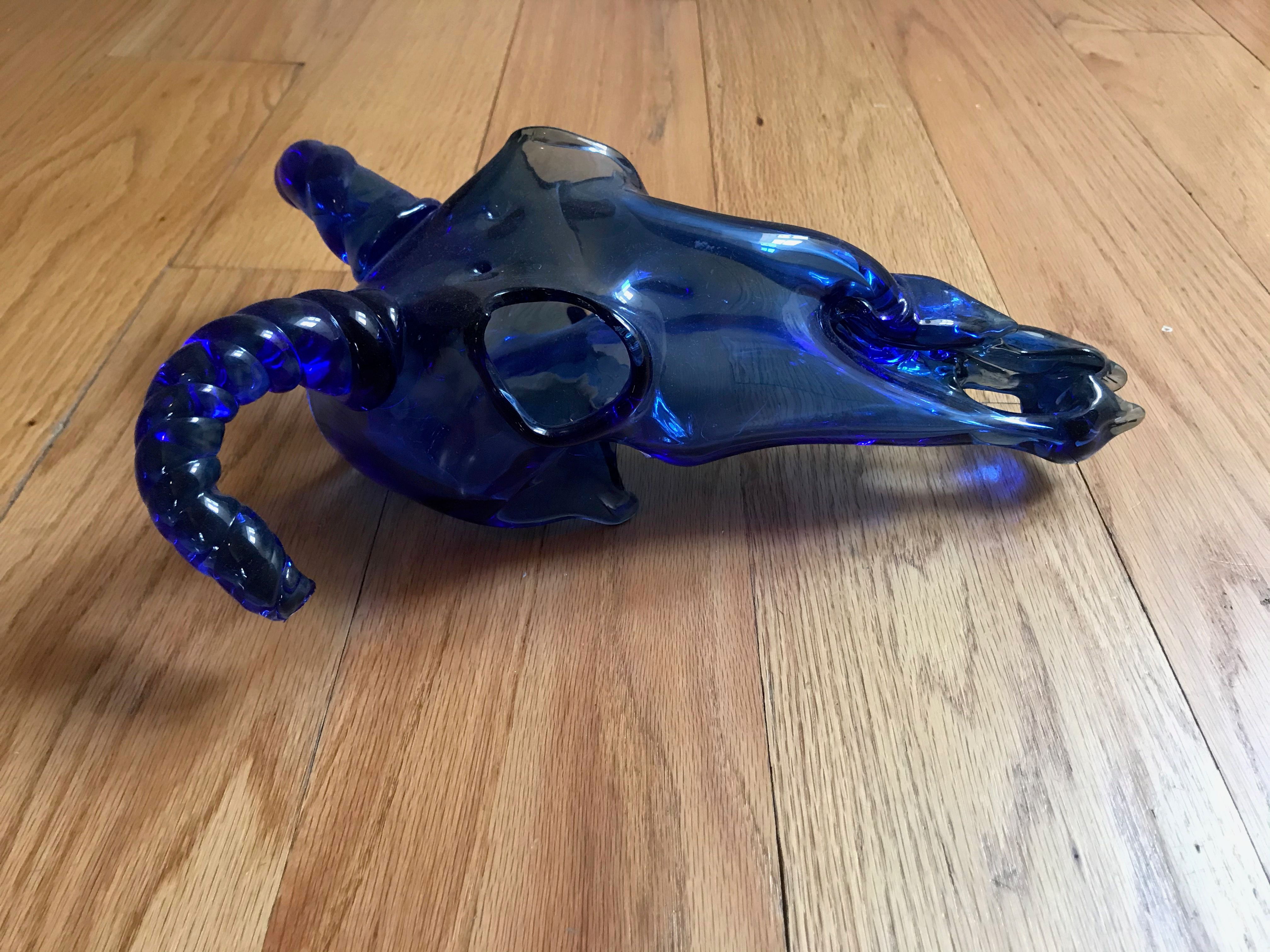 These are my husband's darlings.   He made them when he was doing a great deal of glass blowing a few years back, because he could, and because it was cool. 
How many of them does one really need, though?  
The provisional answer, for now, is the greater of 2r, where r equals the number of rooms in your home, or however many will fit on top of these two bookcases.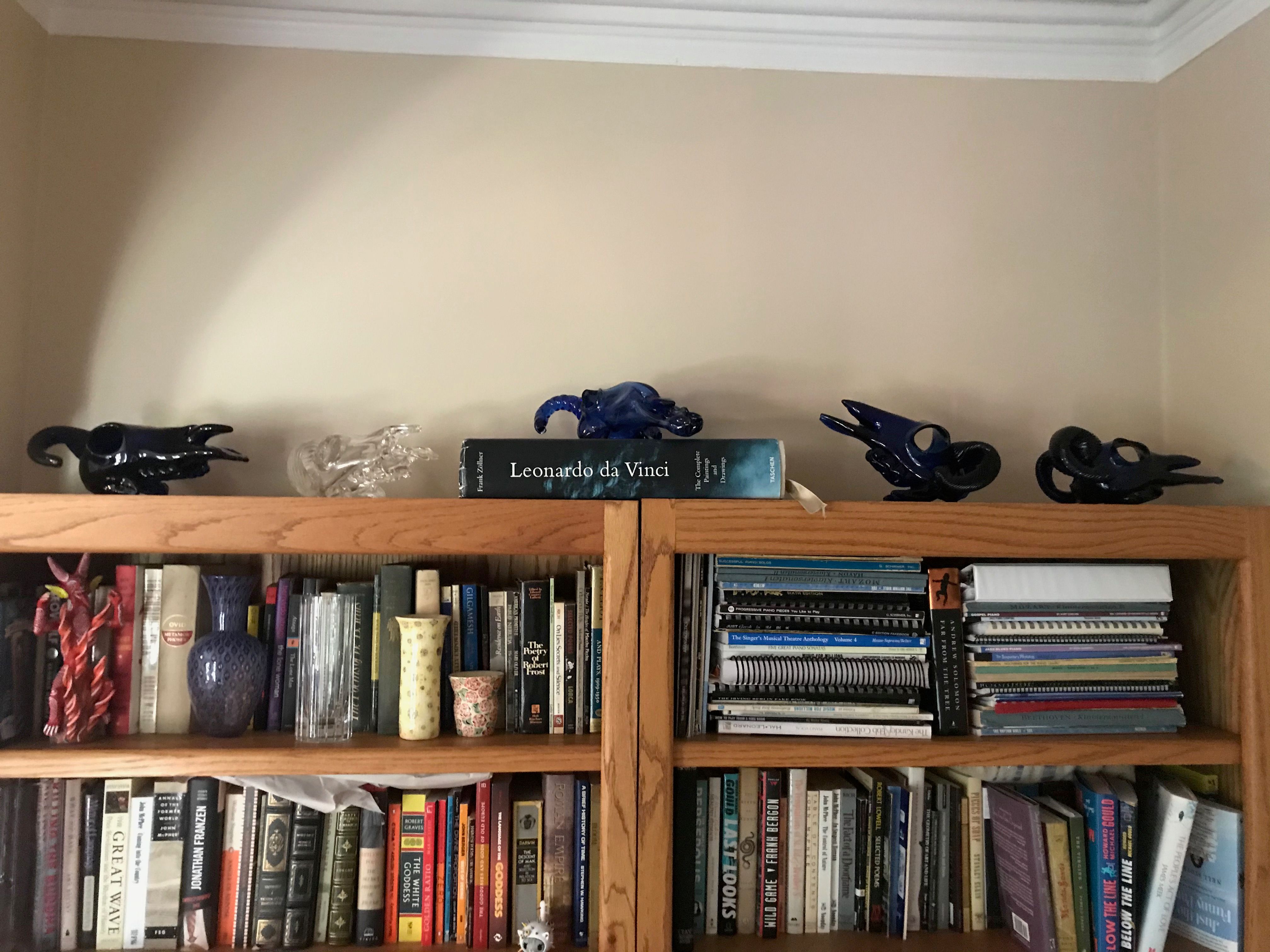 I have some alternative decision strategies in mind.   We could stack them, one on top of another, as we did with the cookbooks, perhaps comparing them to a pile of reading glasses, or hangers.   They're glass; what could go wrong? 
Or we could check the bottoms and see if one or two – or five? – bear a Harvard insignia.