The central signifiers of a traditional Jewish wedding are the canopy and the glass broken under the heel of the groom.  You probably know this even if you've never been to a Jewish wedding because of the wedding scene in the musical Fiddler on the Roof, a revival of which is currently taking Japan by storm (many thanks to my brother, Howie, for bringing this to my attention).   
Here is the wedding scene from the very first Japanese production, featuring the great Hisaya Morishige, who apparently played the role of Tevye 900 times.
I start thinking about this song (the English version) as my daughter's wedding approaches.
Is this the little girl I carried?
Is this the little boy at play?
I don't remember growing older--
When did they?
It pops into my head as I'm walking down Boylston Street, and I burst into tears.  An iconic soundtrack for a pivotal life moment.   
My daughter's will not actually be a traditional Jewish wedding ceremony.   Becca is following the family tradition of Jewish women marrying Catholic men, and asking my college roommate, the amazing Rebecca Pugh, to officiate.  As she did with me and Steve, the Rev. Rebecca is working with the happy couple to create a meaningful ceremony incorporating a blend of traditions.   Including, apparently, the breaking of the glass:  you can't have a Jewish-ish wedding without a broken glass! 
Since this glass-breaking thing falls outside of the Rev. Rebecca's Congregationalist tradition, she suggests that Becca and Brian enlist the mother of the bride to handle glass-related logistics.   
What is an appropriate glass for breaking?   Stemmed wine glasses seem a bit hazardous.   The groom's parents report that they once attended a wedding in which the groom tried to break a stemmed wineglass, and not only failed to smash it, but instead sent it flying across the room.  Husband Steve suggests that we use one of the Reidel stemless wine glasses we've been slowly collecting over the years (in many situations, Steve favors the priciest available solution).
The Rev. Rebecca suggests a lightbulb.   I can imagine an incandescent lightbulb shattering easily – but can you even buy incandescent lightbulbs anymore?   The LEDs we have for our house would not do: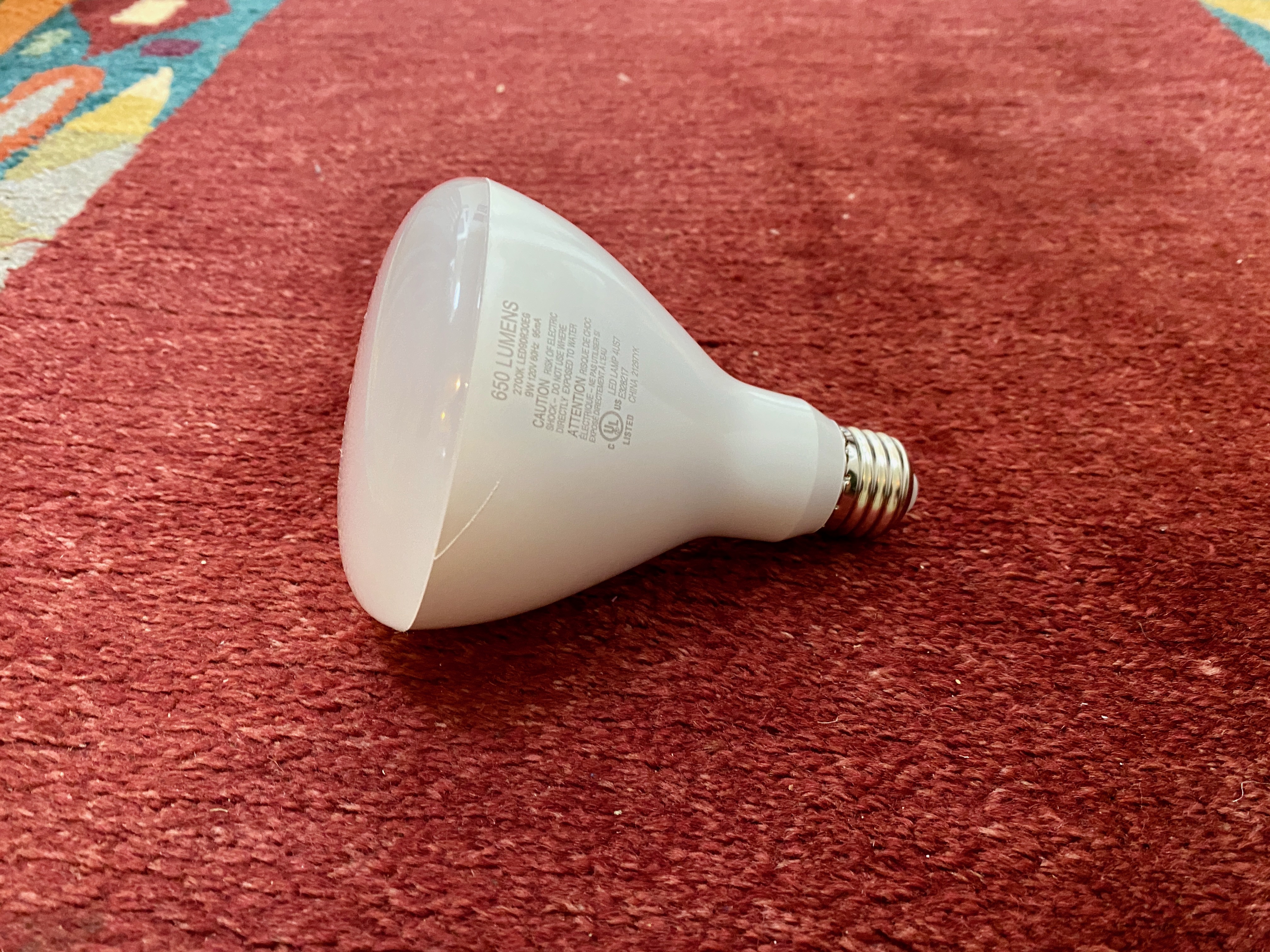 Besides, it's SUPPOSED to be a glass.  Good marriages are grounded in honesty, and I am troubled by sleight of hand in a wedding ceremony.    Anyway, aren't you supposed to drink from the glass before smashing it?
I ask (daughter) Becca if they will be drinking from the glass before smashing it.   "Drink from it first?  Why would you think we'd do that?"
Why would I think that? First, there's the principal of Chekhov's gun:   if you introduce a gun in the first act, you'd better fire it by the third.  Shouldn't the reverse hold true? If you know you're going to smash a glass as the wedding's final act, you'd better drink from it in the first.
Then, of course, there are the lyrics from Fiddler on the Roof's "Sunrise, Sunset:"
Place the gold ring around her finger
Share the sweet wine and break the glass
Soon the full circle will have come to pass
This song has been on replay in my head for the past several weeks.   It's long past making me ferklempt, for sure; I would very much like, at this point, to turn off the soundtrack.   These are not Sheldon Harnick's finest lyrics – I say this with some authority, since I have myself written plenty of bad lyrics.   (Future perfect tense?  Pull-EEZE.)   But lyrical awkwardness aside, the point is that no less an authority than Sheldon Harnick thought you were supposed to drink from the glass before smashing it!   And that the wine should be Manischewitz. 
There is a parable, probably from the Ba'al Shem Tov, about successive generations practicing a particular Jewish ritual. The original version of the ritual involves an elaborate sequence of prayers chanted in a particular location in a forest.  Subsequent generations continue to enact the ritual, remembering less and less of the specifics, until the final generation only remembers that they are supposed to show up in the forest in a contemplative mood.  The point of this story is that the actions of this last generation, who simply show up in a holy place in the right frame of mind, are equally precious to God.   
Or maybe the point is that it's a darned shame that nobody remembers the details anymore, and we've all gone to hell in a handbasket.   I really couldn't say.  Because I am of a generation that only remembers that there are parables, that they're usually attributed to the Ba'al Shem Tov, and that we're supposed to learn from them, and also that at weddings one breaks a glass from which the marital couple may, or may not, have previously shared an adult beverage. 
Sunrise, sunset
Sunrise, sunset
Swiftly fly the years
One season following another
Laden with happiness and tears
PLEASE GOD, MAKE IT STOP. Though I'm sure the lyrics are much better in Japanese. 
I am of a generation that knows that much as we all hate Jeff Bezos, solutions to many problems can be found on Amazon (for about half the price of a Reidel glass).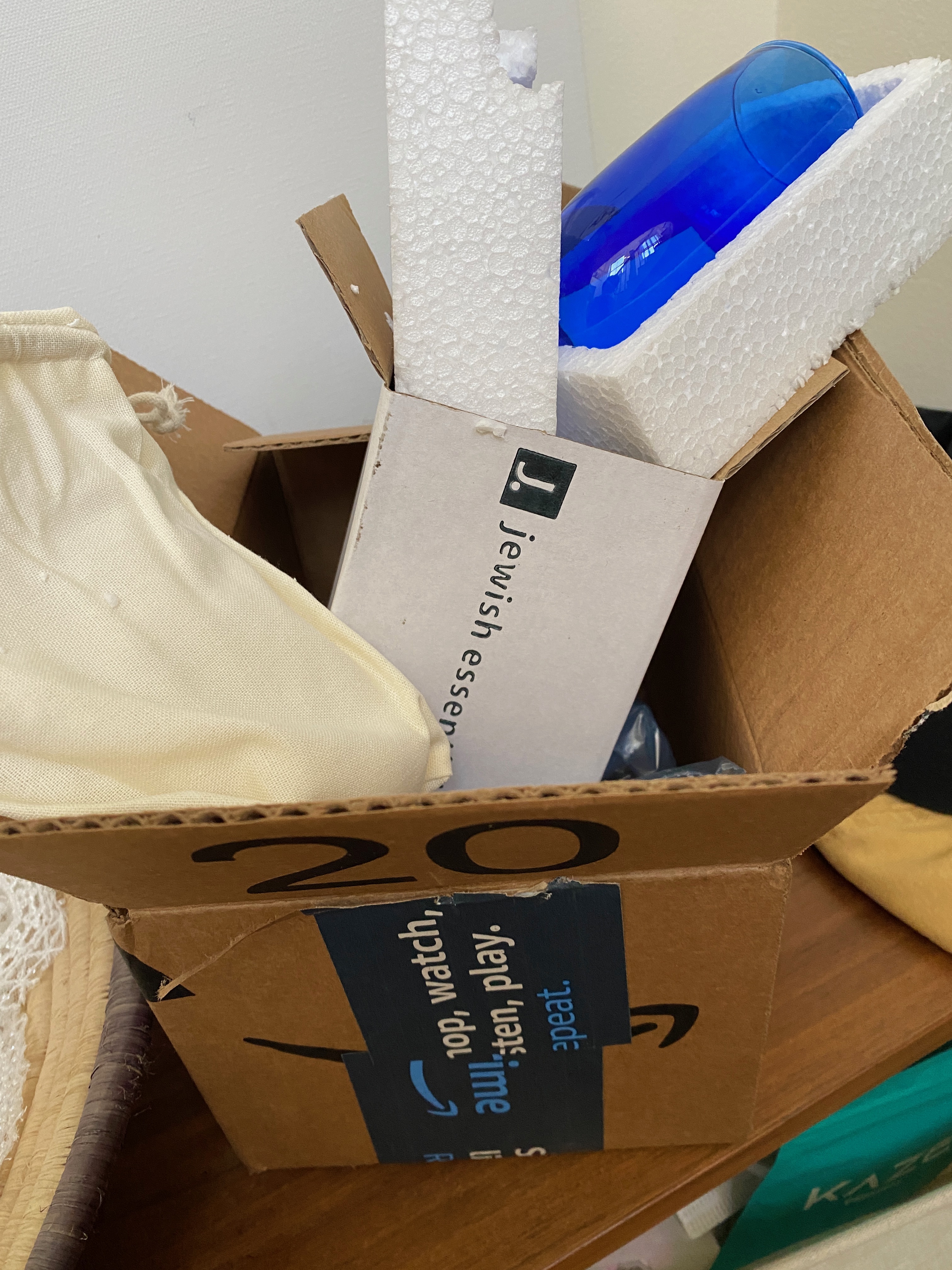 My daughter Rebecca and her wonderful life partner, Brian, will be married tomorrow.   There will be a canopy.  There will be a glass, which will likely shatter obligingly into a purpose-built satin-lined sack that will catch every last shard. 
Her mother will be there, soaking up every moment.  And trying very, very hard not to think about Fiddler on the Roof.