For the first time in my life, I have a handbag that matches my shoes.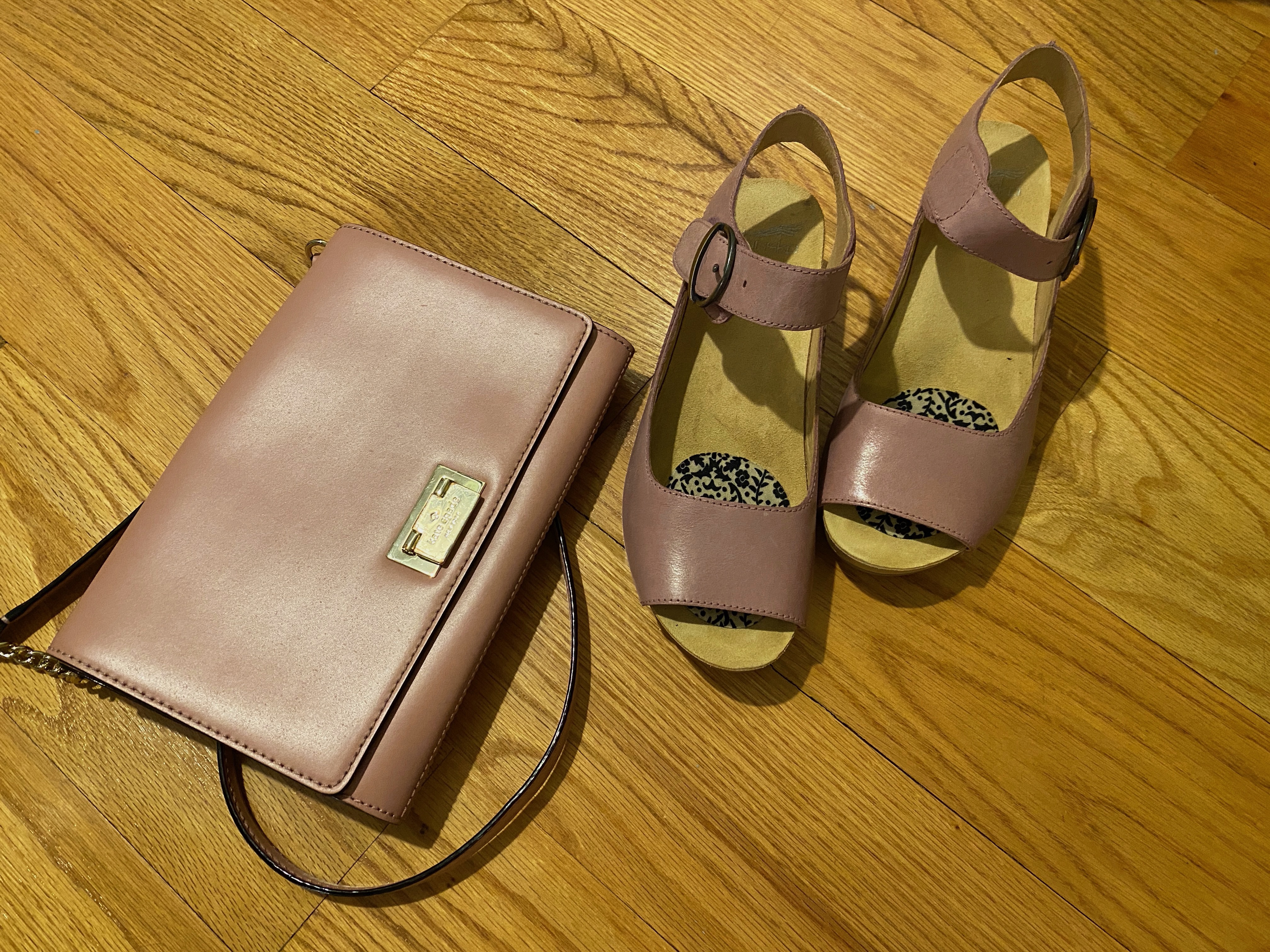 This is because my daughter is about to get married, and I am trying to be a Class Act.
Shopping for a Mother of the Bride dress was an unusual treat:  my life doesn't offer many occasions for wearing fancy duds.   I started at consignment and vintage shops, which offered some interesting options.   This one was a little dowdy: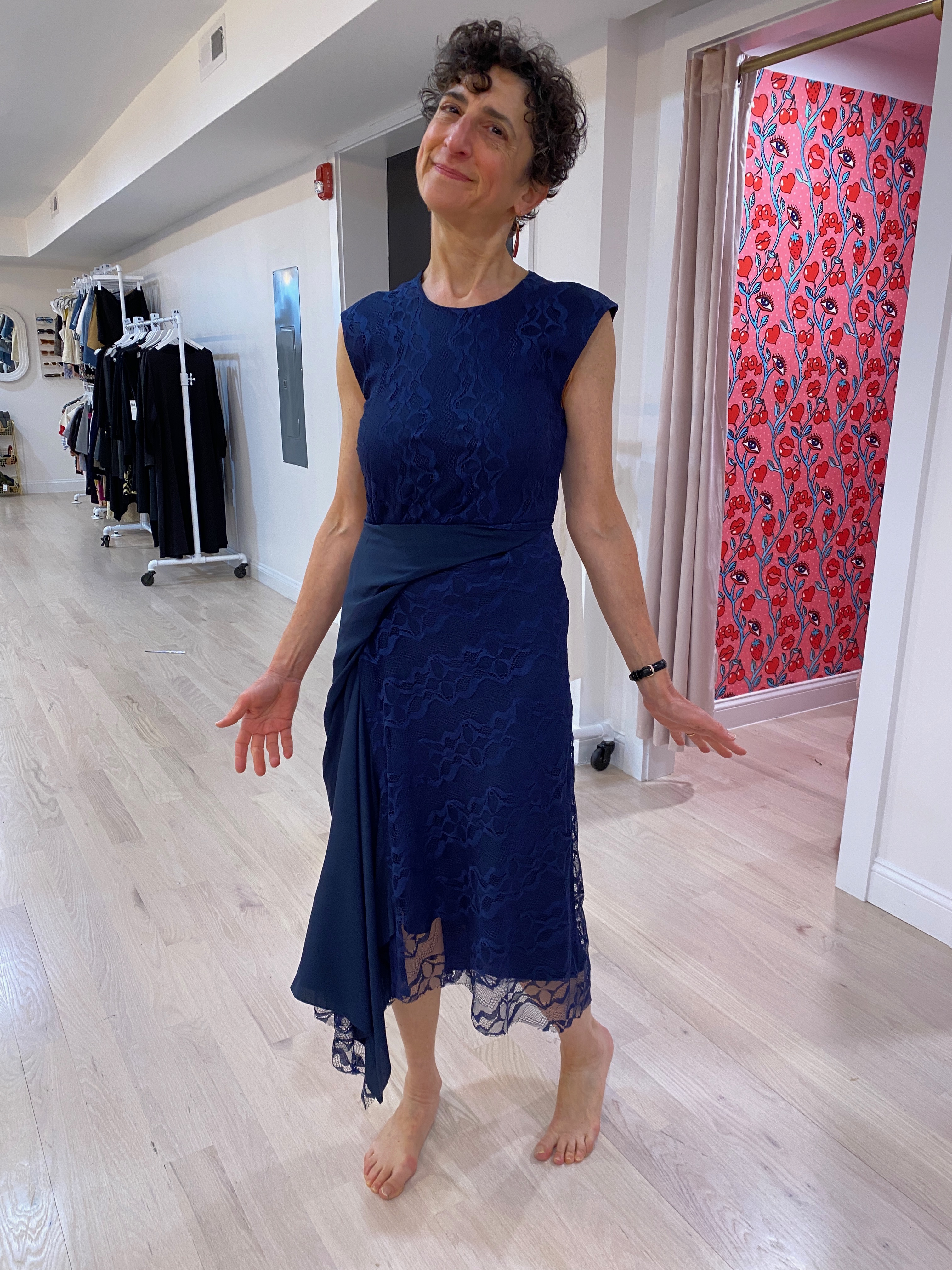 This one was not: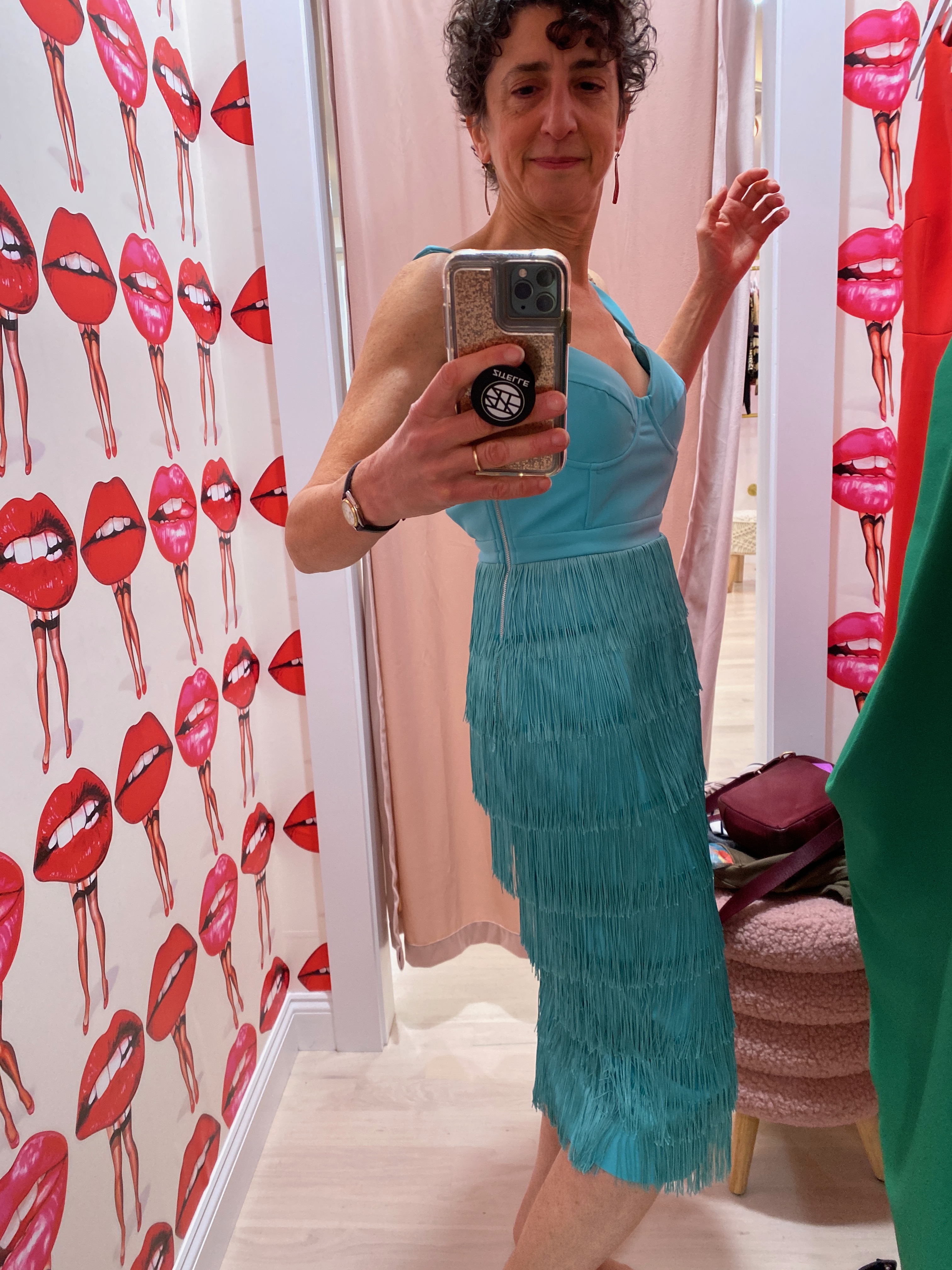 I almost picked up this little number on a trip to LA: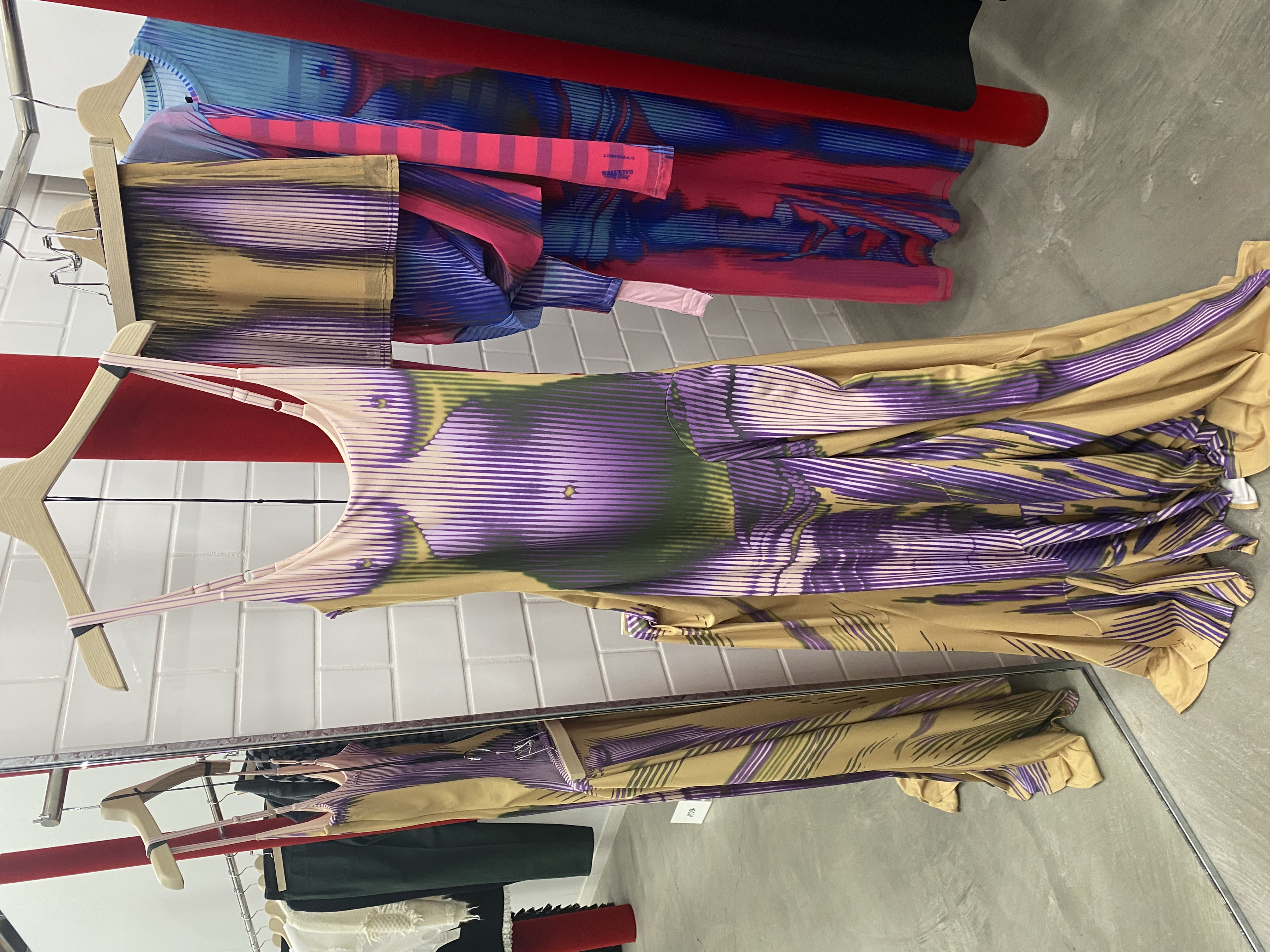 In the end, I went to the shop where I buy almost all of my clothes, tried on five dresses, and picked the one liked the best.  It's a very nice plum-colored shift that captures my personal sense of style, best articulated by the late, great Gilda Radner:  "I base most of my fashion sense on what doesn't itch."
Of course, a non-itchy dress does not a full ensemble make; and knowing my strengths and weaknesses, I reached out for help.   My singing pal Tina is not only talented and insightful, but she is, hands down, the most elegant person I know.   And she was awesome!   She helped me choose the right earrings, necklace, and shawl; and told me how to make my too-wide shoes fit a little better.   (In exchange, I made Tina a tracking spreadsheet for her parent coaching business:  I definitely got the better end of this bargain.)
After my accessory consult, I had homework:   find a more blue-tinted shade of lipstick to complement the plum color of the dress, and look for a suitable handbag.  Modest in size; just big enough for MOTB essentials (bandaids, safety pins, the aforementioned plum-colored lipstick), and in a complementary color:   black (to match my shawl), or perhaps, if I could find it, the same color as my shoes (always, as Tina explained, a classy option).
And find that magic shoe-colored purse I did, in a consignment shop down the street.   At the same time, I found these delightful alternatives, pictures of which I sent to Tina, asking which of the two she would recommend: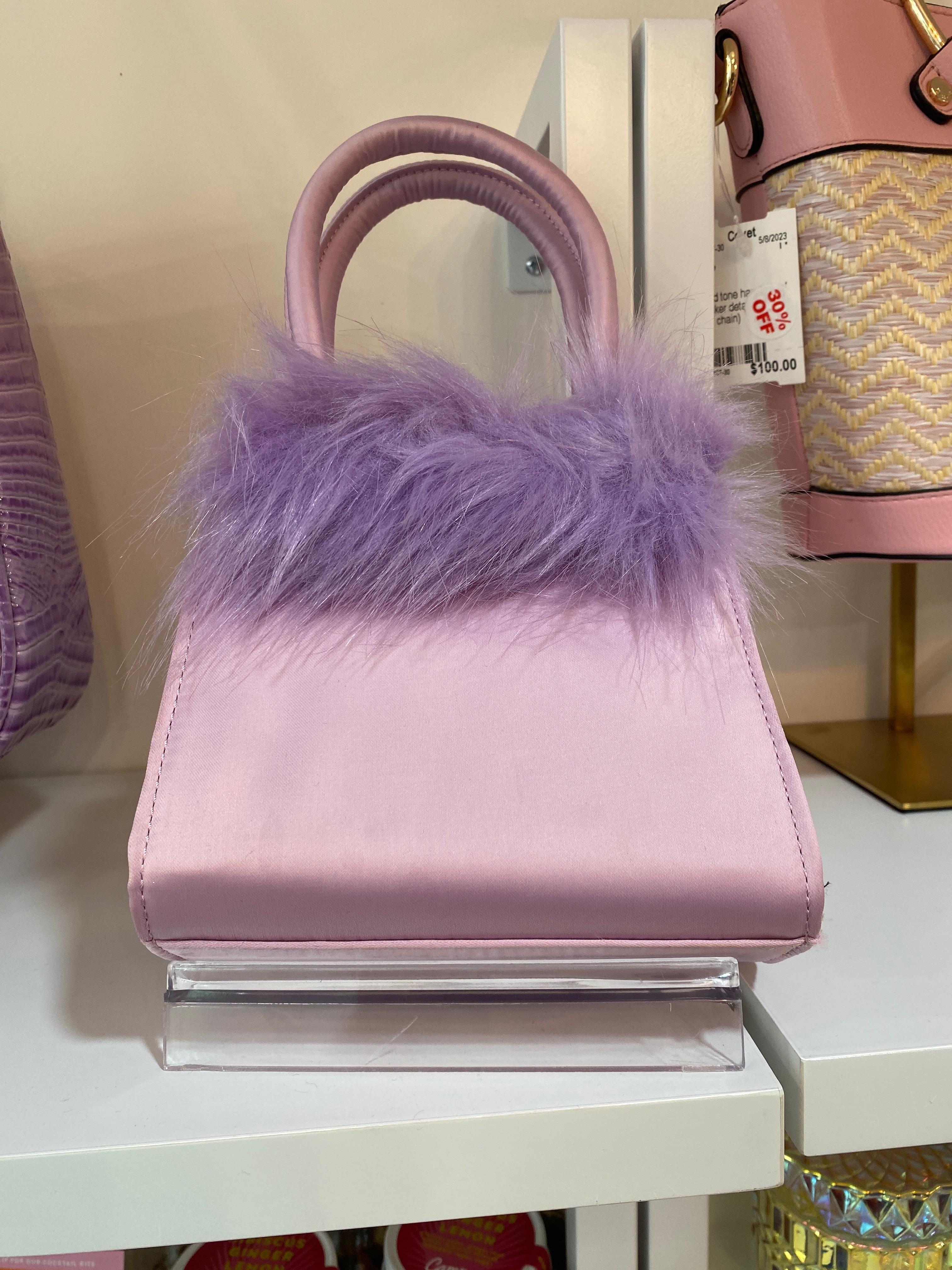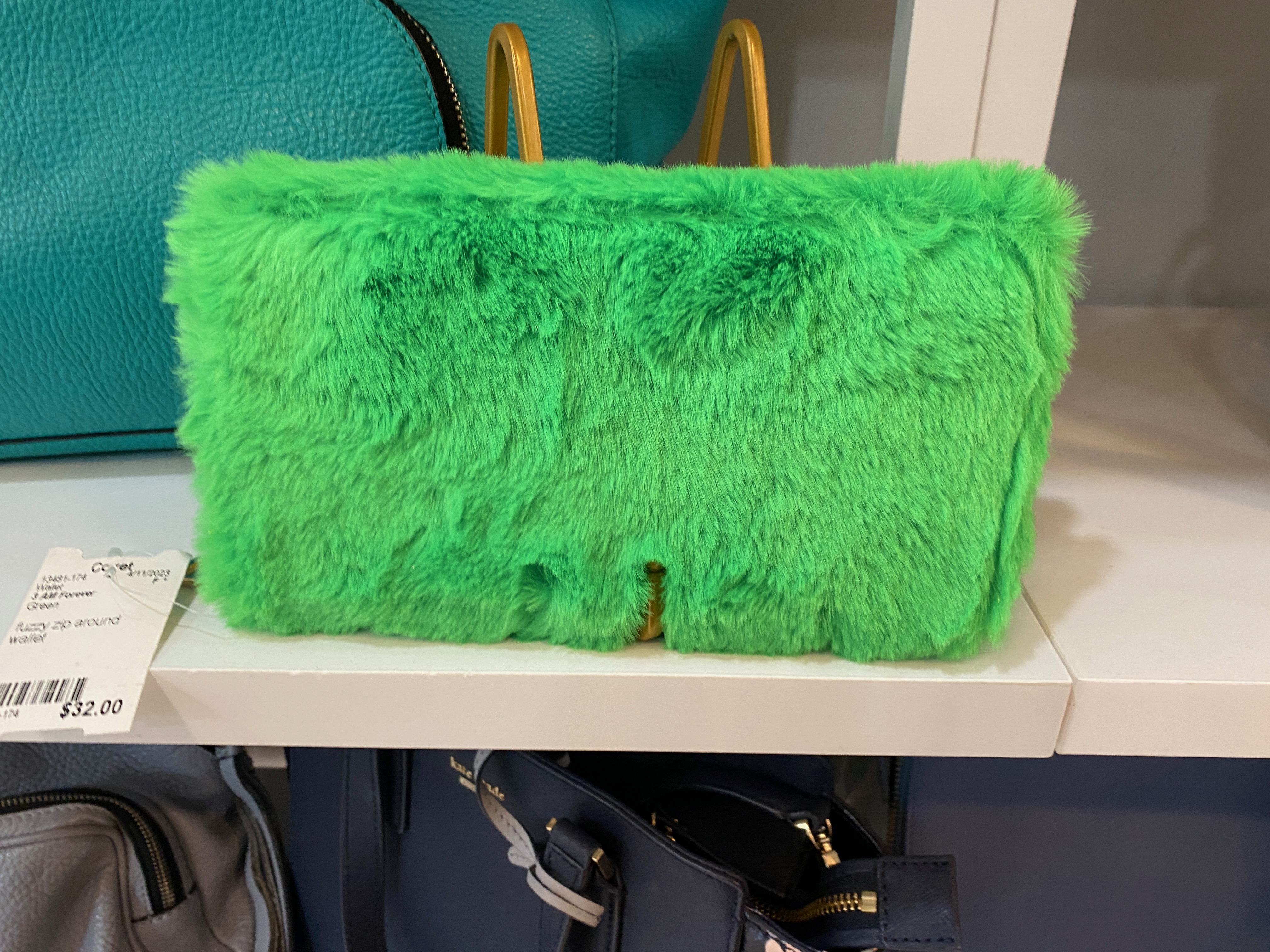 She answered, quite diplomatically, that she was intrigued to see I was looking for a pop of color and perhaps a little whimsy rather than going a classical route.  This response says everything, I think, about my general fashion vibe.
33 years ago, I was shopping for my own wedding dress.   I went to a favorite store (The Elephant's Trunk in Mt. Kisco, NY), tried on five dresses, and bought the one I liked the best.  It was a tea length shift (it did not itch), kind of a 20's vibe, but since it was the 80's, it had great, big shoulder pads.  Think Great Gatsby meets Working Girl.   Here I am, with my own mother, and her mother, and all of our hair.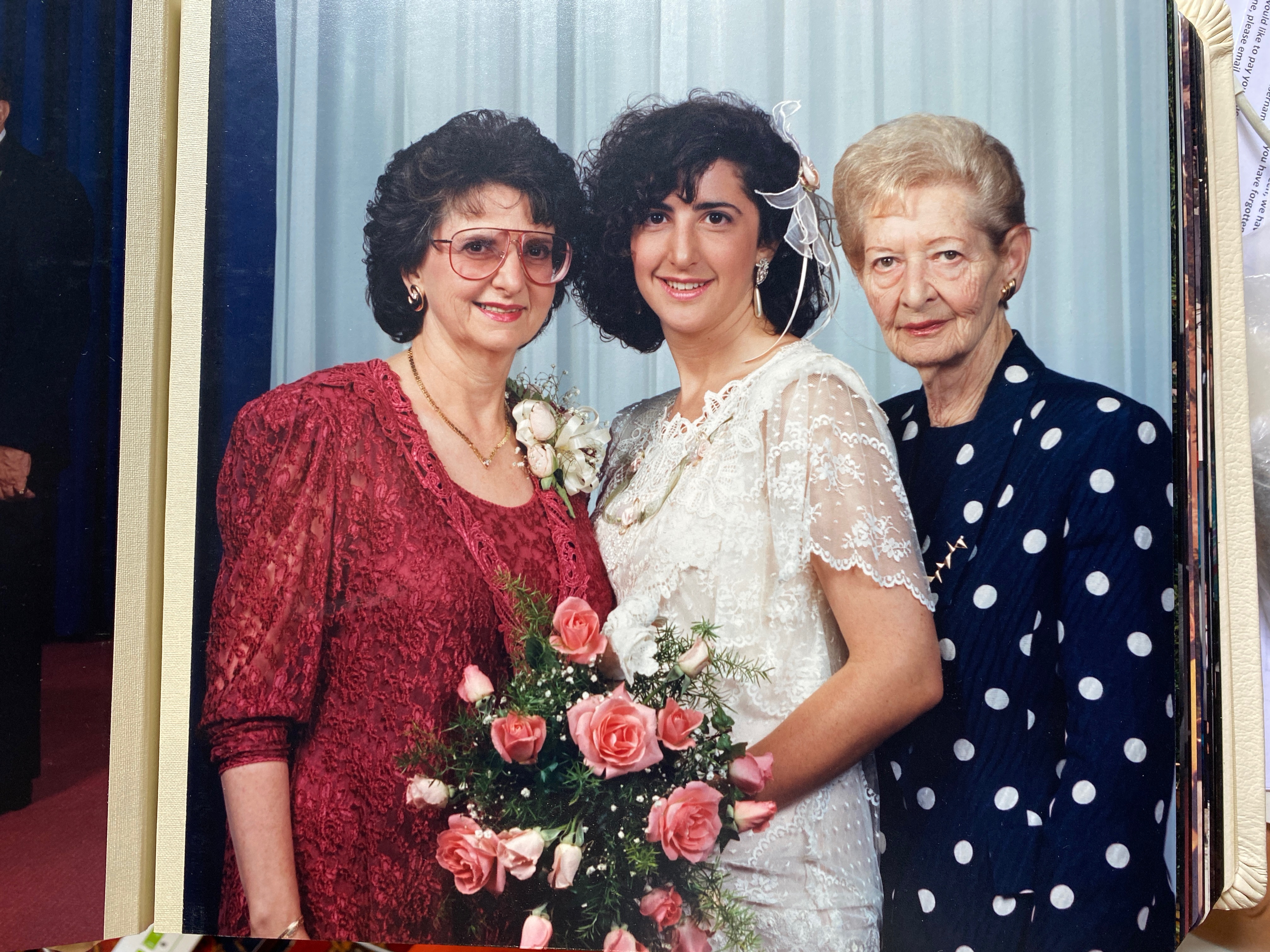 I still have this dress, and Rebecca tried it on shortly after her engagement.  She looked adorable. In the end, though, she opted for something other than the 20's-meets-80's look.   She went to a store she favored, tried on five wedding gowns, and bought the one she liked the best.   
I only hope it doesn't itch.