It didn't work out so well for Whitey, either.
A few weeks ago, I posted a blog entry ("Whitey Bulger in the Garden") in which I enthused, rather smugly, about the many strategies I have employed to keep marauding members of the animal kingdom out of my veggie patch.   I was particularly eloquent about a certain electric fence we'd installed -- a single wire, set at bunny height, which would deliver to any encroaching rabbit a jolt big enough to scare him off, but not enough to do any actual harm.   At that point, the fence seemed to have been completely successful:   parsley, beets, and beans, veggies that had been chomped to the ground in previous years, had all survived and thrived.
Then I went on vacation for a week.  Here's what I found when I returned: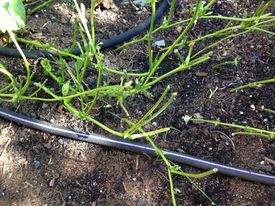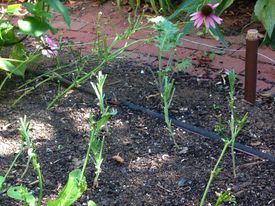 The skeletal remains of previously thriving beans and kale.   I am drawing the only possible conclusions:
The bunnies have returned.
They are literate.
And they have Internet access.
Until I had the temerity to boast of my bunny-exclusion techniques on my website, the bunnies had been completely and totally out of the garden picture this year.   But barely a week passed after the "Whitey" post before the first signs of rabbit damage had begun to appear.   They're onto the fact that the electric fence is essentially harmless.   The bunnies did the research, and they have reacted accordingly:  they are now brazen residents of the garden, hopping under (babies) or over (biggies) the wire with scarcely a care in their bunny heads.    They have figured out what's what.   And further, they know that I referred to them as "dumb bunnies," and used a few choice epithets besides.  
And now they are exacting their rabbit revenge, by devouring my bean plants, down to the very stalks, and then going after the kale (clearly, they have also read last week's post on the virtues of kale).  Curiously enough, while they mowed down the beans, the kale, and a few beet plants, they have left some lovely chard (a beet relative) more or less unscathed.  (Of course, now that I've published this, I'm betting the chard plants will be victimized before the sunrise tomorrow). 
So now I am left scrambling after the usual pansy-assed organic solutions, basically, coating my garden with smells and tastes that the rabbits will find irksome.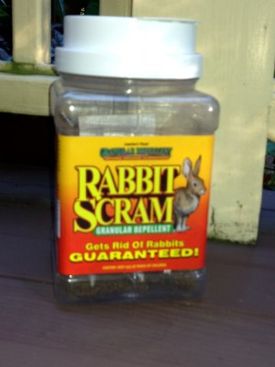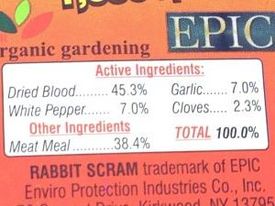 This stuff guarantees (or rather, GUARANTEES!!!) that the rabbits will leave in a huff.   Skeptical of any promises on this front, I have also whipped up some pepper spray, choosing the most noxious-sounding recipe the Internet had to offer (half a dozen hot peppers, pureed in their entirety, steeped, strained and sprayed on the most bunny-attractive plants.  And then sprayed a second time.  Because I am leaving little to chance.)
And this time around, I am going to use the blog to further my cause:  
BUNNIES, IF YOU ARE READING THIS, KNOW THAT WHATEVER MAY HAVE HAPPENED WITH THAT WIRE, THIS TIME IF YOU MESS WITH MY GARDEN, I WILL MAKE YOU REALLY, REALLY MISERABLE.   THE FOOD YOU WILL FIND HERE WILL BURN YOUR LITTLE MOUTHS LIKE NOBODY'S BUSINESS.  AND I AM NOT GOING TO GIVE YOU ANY BEER OR YOGURT TO CUT THE HEAT.
There!  That ought to do it.
As an ironic postscript to my return to my much-reduced garden, this sign confronted me on my post-vacation, restock-the-fridge trip to Whole Foods: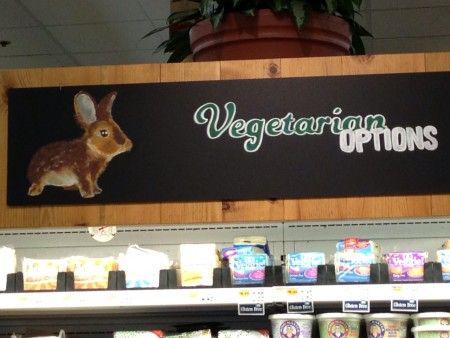 Bunnies, I will tell you from deep and ugly personal experience, are the enemies of vegetarian options.    Anyone who is truly dedicated to a vegetarian lifestyle should be eating the bunnies.   It's the only sensible response.