This Mother's Day, Boston has given me a beautiful bouquet of flowering trees.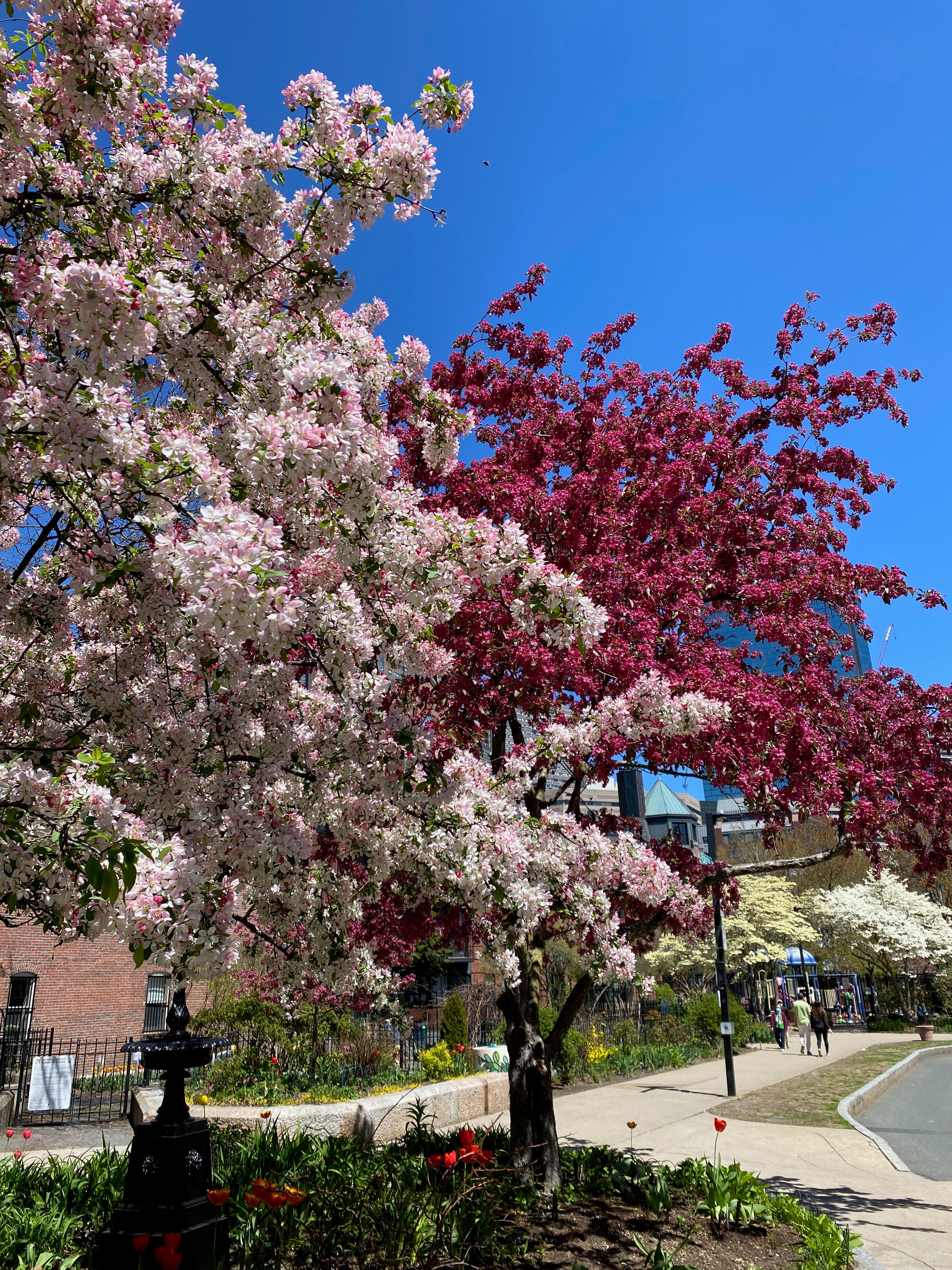 It's been a cool spring, and the trees have been in bloom for longer than usual, a real treat.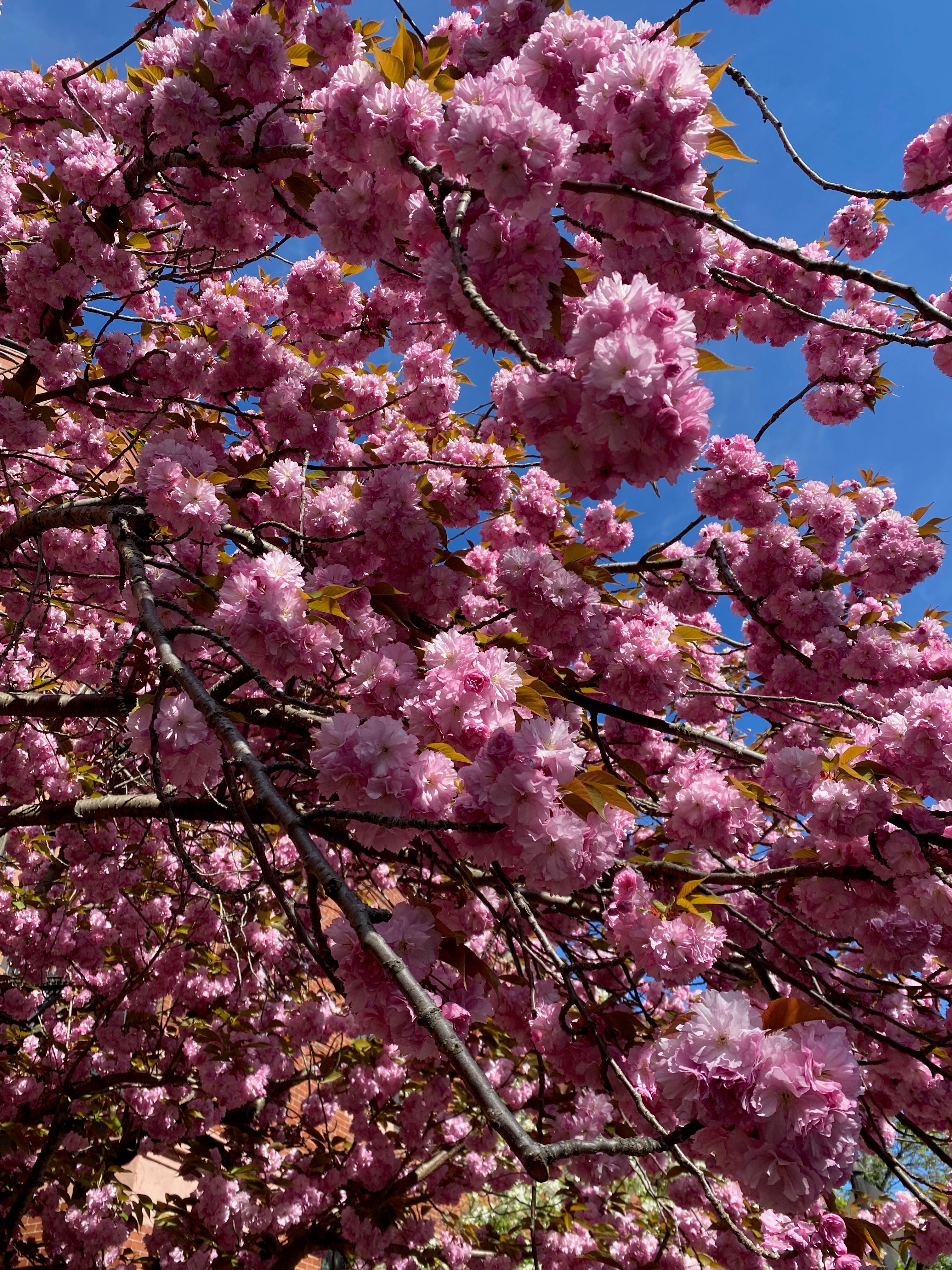 I can't see these particular flowering cherries without remembering the intense joy they sparked in me as a little girl.   They were pink – my favorite color – the most marvelous bubble-gum pink.   The blooms were fully double, frilly and fabulous.   And a full tree of them, growing higher than I could see!   It was a miracle, this crazy glut of the most perfect blooms in the most perfect pink. 
And then they fell, after a scant week or so; and I was heartbroken.   The miracle trees were back to their boring, unexceptional green. 
Some time around 1969 or 1970, when I was four or five, I saw a picture in a magazine of a woman with hair exactly this color, a bright pink, flower-power bob.  I was smitten: I begged my mother to let me dye my hair this most luscious shade.   She had, some time before and only after endless pleading, agreed to let me grow my hair long, a project on which I had been working for some excruciatingly protracted period of time (three months?  six?).    And now my mother offered me a choice:  I could, indeed, dye my hair pink – if I would agree to cut it short once more.  I agonized, but in the end I made the choice she undoubtedly knew I would, leaving my hair long but brown.  She was a wise woman, my mother. 
My hair is quite short these days, just the way Mom liked it.  At this point, nothing and nobody can stop me from dying it any color I please.   But I haven't, just yet:  my hair is shot through with silver, not pink.   This feels fitting, given centuries of hackneyed floral metaphors for aging.   I am, after all, no longer in the full flower of youth.  The bloom is off the rose, and all that.   
My grandmother, Else Vollweiler, must have been about my age, or even a few years younger, when I famously told her, "Oma, you are old; but not SO old."  She thought that was hilarious, and she quoted it back to me for the next 20 years.   
Else was in fact quite a beautiful woman in the full bloom of her youth.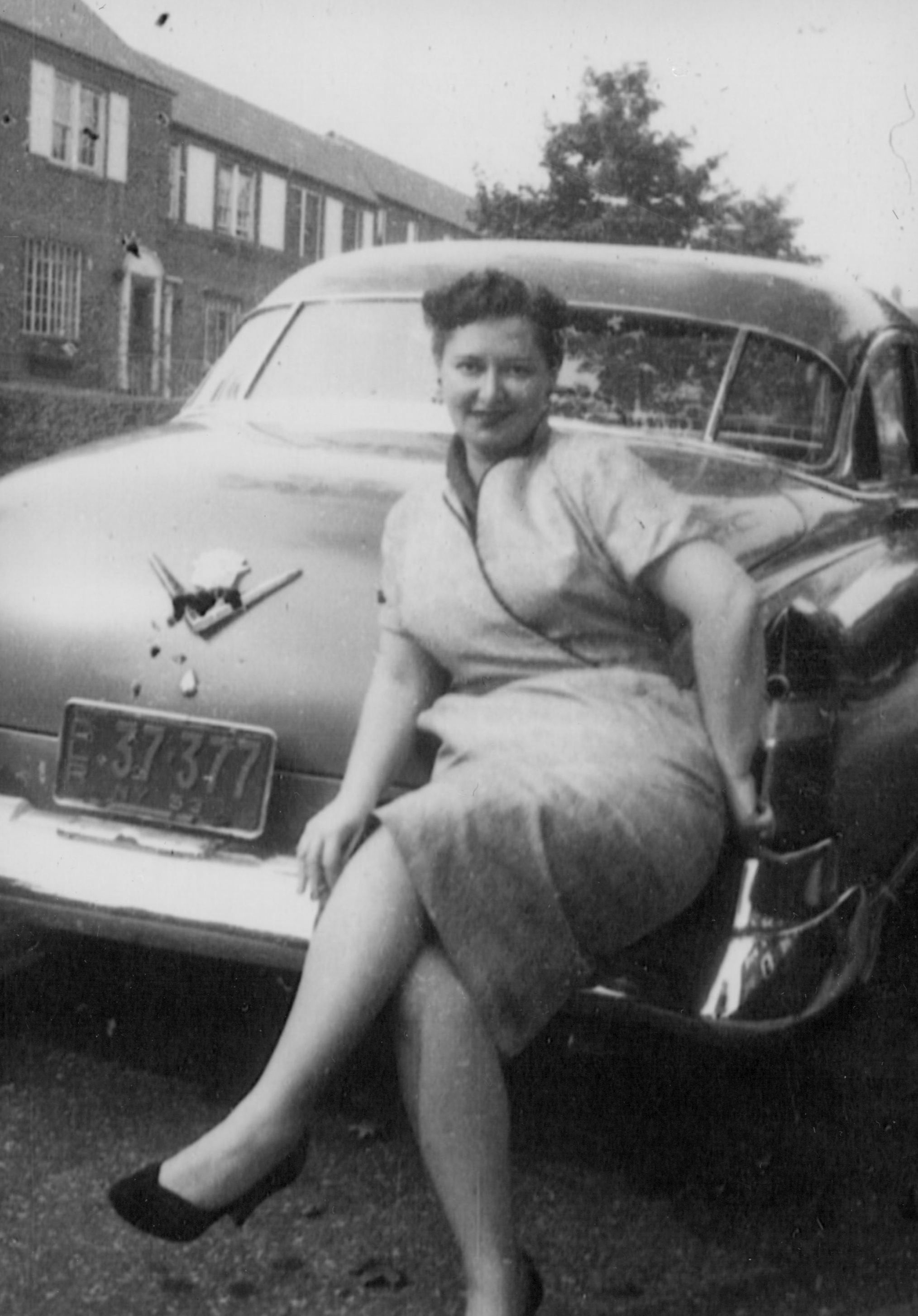 My mother and I always thought she looked a little like Ingrid Bergman, only far prettier, of course, because she was ours. 
As a gardener and a lover of gardens, I have matured over time, as most gardeners and lovers of gardens do.    In Japanese gardens, perhaps the pinnacle of elegance and structure, blooms are never the stars, often entirely absent.   Like anyone else who has been to New York City's High Line park, I admire the work of superstar garden designer Piet Oudolf, who creates exquisite living collages of ornamental grasses and graceful, restrained shrubs and perennials. 
But somehow, in my own gardens these days, I am still drawn to color, the brighter the better.   For the last couple of years I justified my choices by declaring that in the middle of a pandemic we need all the cheer we can get.   But truly, I just love a visual riot.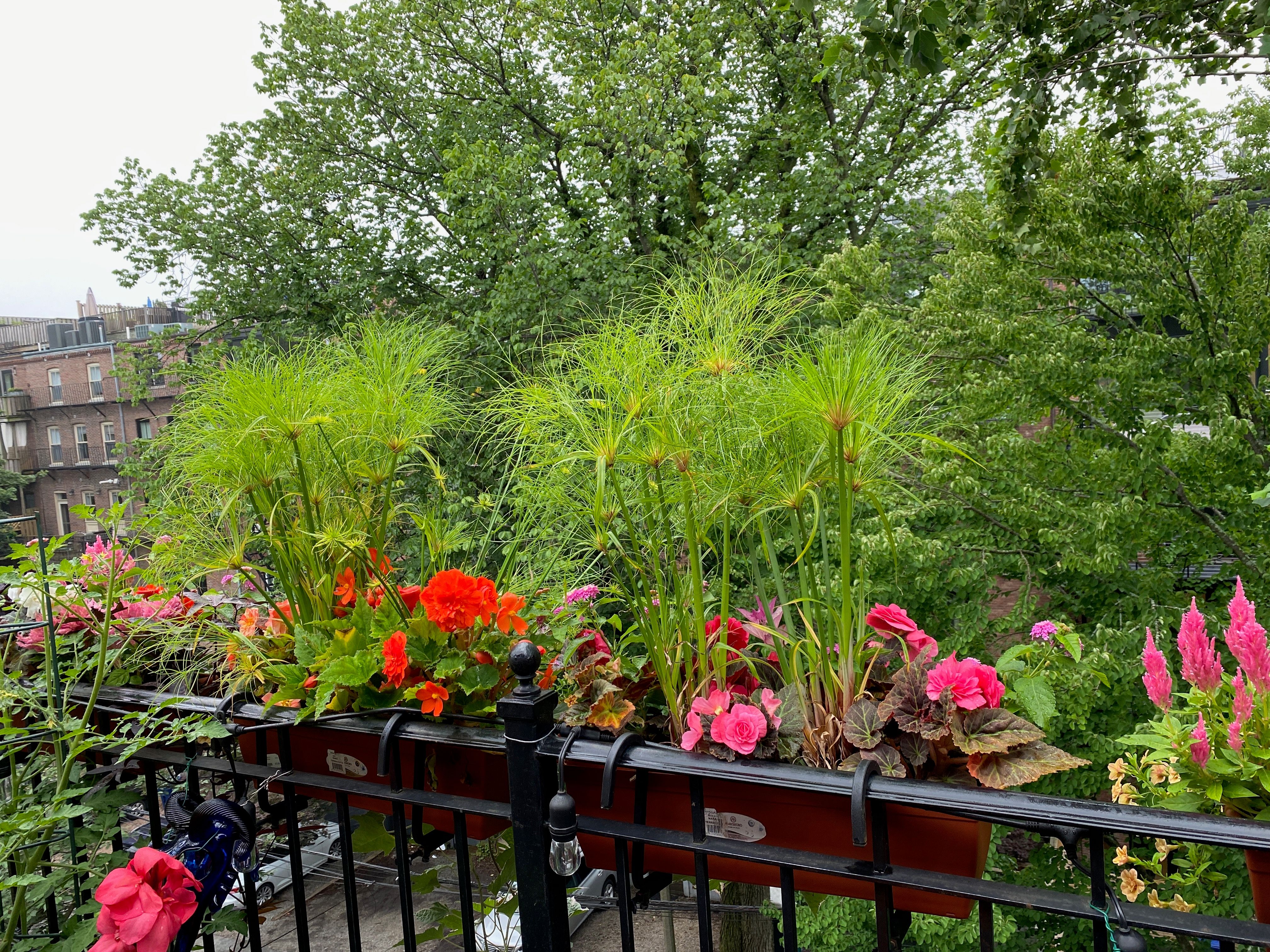 In my community garden plot this year, along with the beans and the basil, I am planting dinner plate dahlias.  If all goes well I will have an explosion of purple, yellow and orange flowers, great big ones, nothing subtle about them at all. 
And oh, those flowering trees.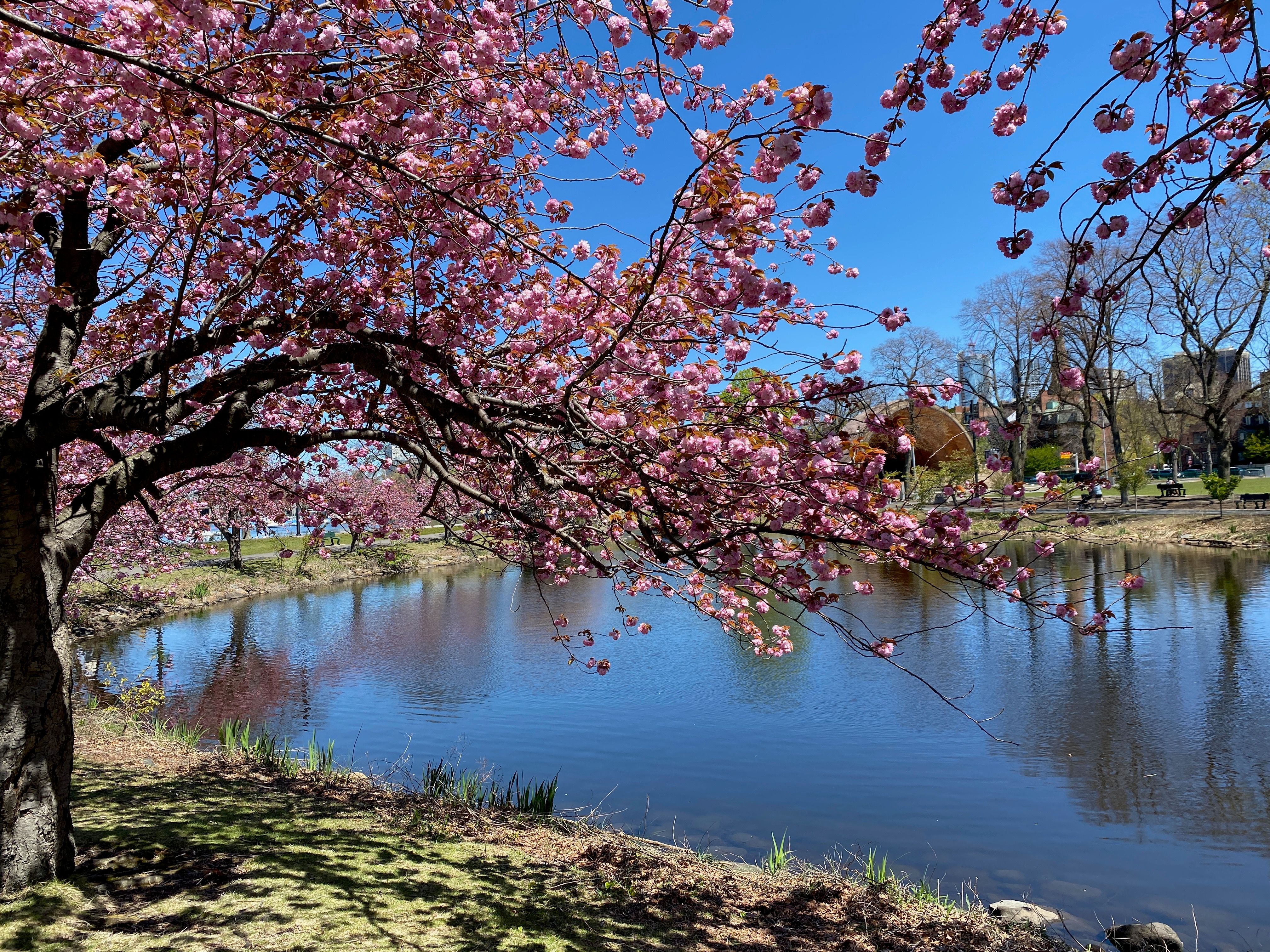 I'm still fond of those double-blossomed cherries, but the truth is I adore them all:  the single-petaled dogwood bracts, the tiny redbud blooms, the barely-blushed white of the apples.    I no longer mourn the petal fall, the annual fade from glory.  I watch the trees spring into bloom with full awareness of how short-lived it will be, this explosion of magnificence, and I think I love them the more because of it.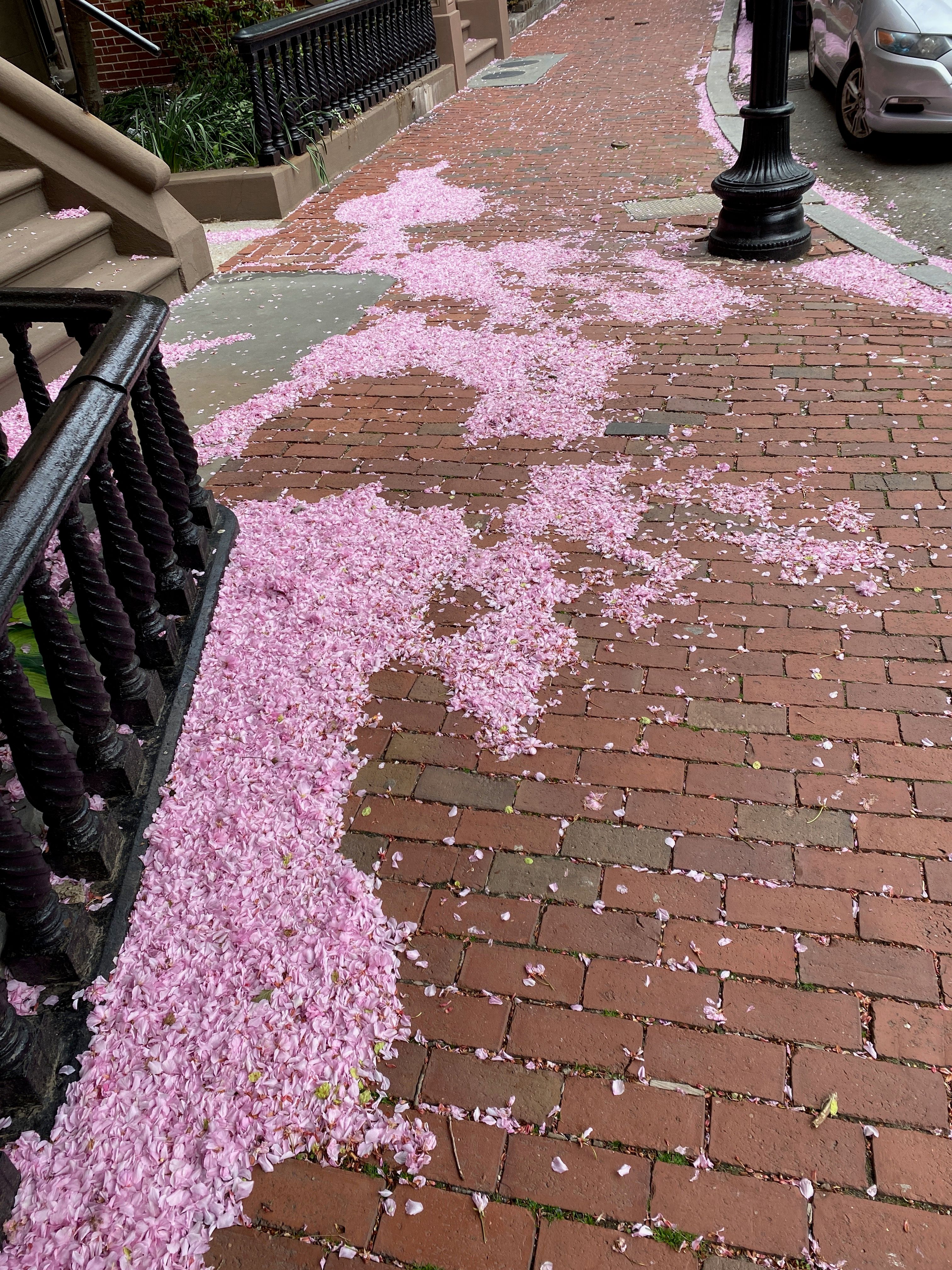 Like my grandmother, my mother, Inge Gould, was quite the hot ticket in her salad years.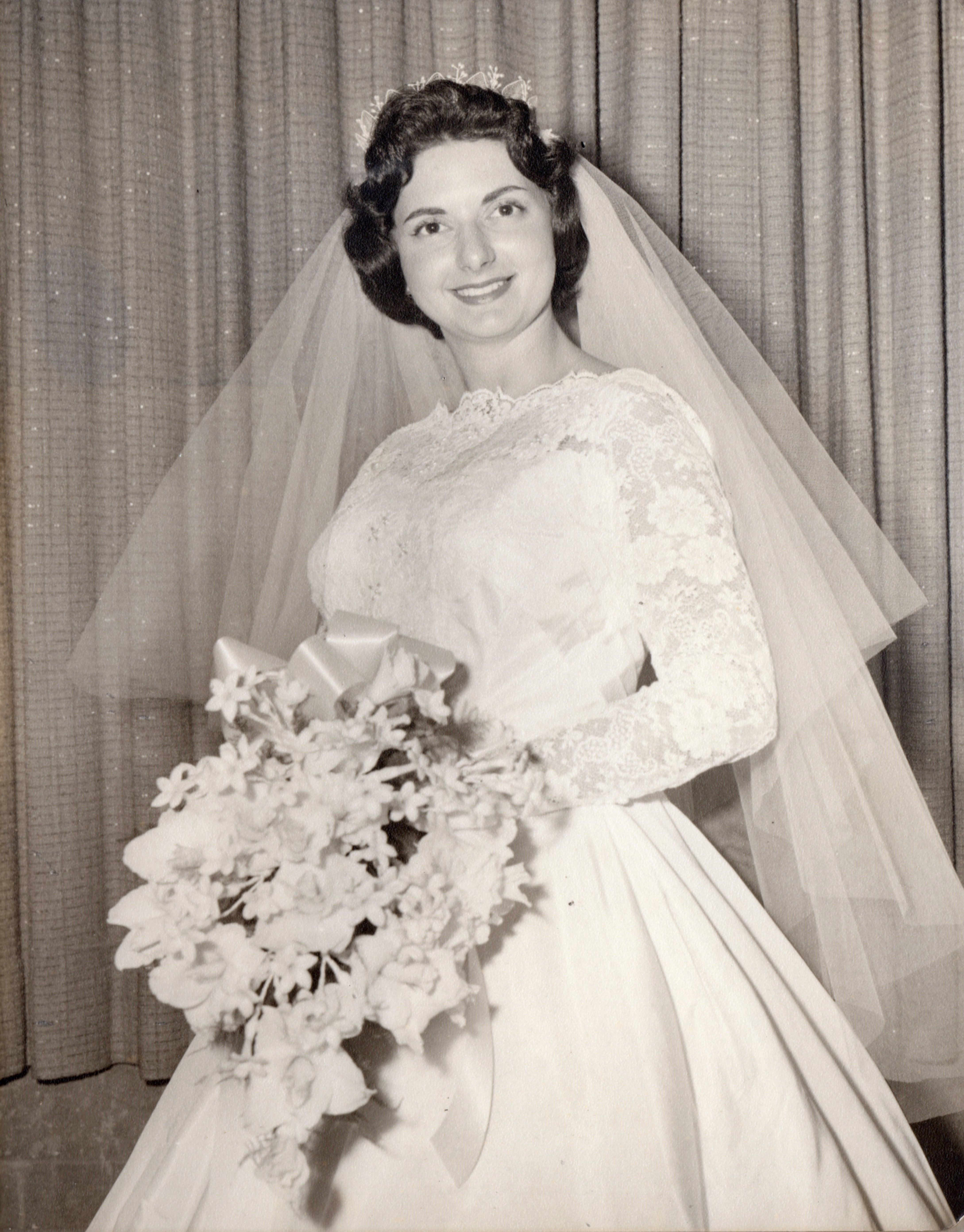 But I never found her quite as beautiful as I did during those last months of her life, when we both knew that cancer would soon take her from us.  I would sit across the kitchen table from her and marvel at how extraordinarily beautiful she was, this mother of mine, how very, very lovely. 
I guess this is what I have learned most to savor, now that I myself am old, but not so old:  the impossible beauty of what we are about to lose.