Mortality has become the stuff of daily discourse in the age of COVID.  Yet the US Postal Service does not know what to do with death. 
My mother, Inge Gould, died on Friday, March 13th.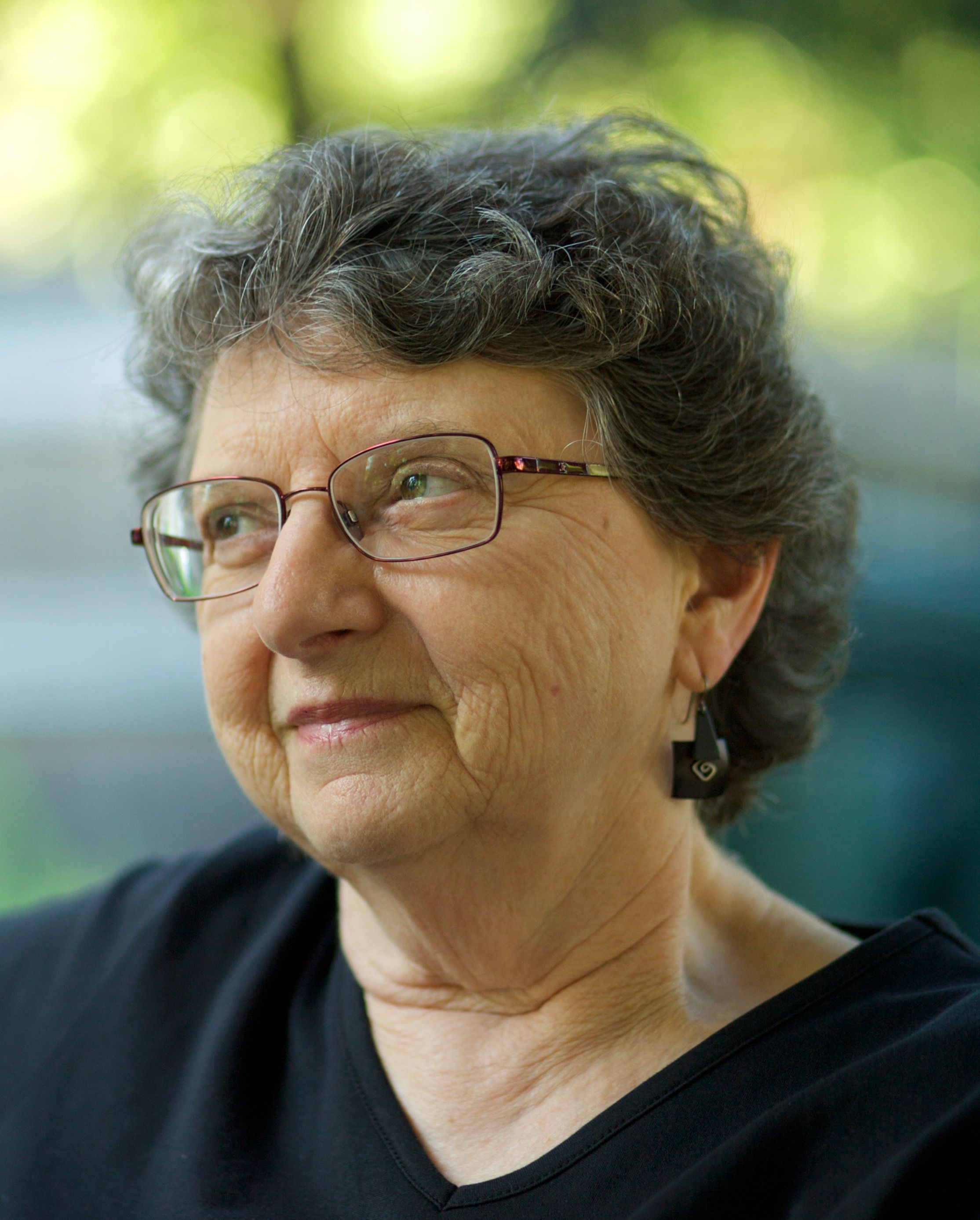 I have been trying to get her mail forwarded ever since.   The USPS website is quite explicit:   you cannot process such transactions online.   You must bring a death certificate and proof that you are the executor to a post office branch, preferably the home post office branch of the departed.   Unlikely at the moment:   I live in Massachusetts, and Mom lived in Florida.  
I call the USPS helpline, to ask if there is some way to do this remotely.   I am put on hold for over an hour; but eventually I do get through, and the woman at the other end is as nice as can be.   All I need, she says, is a simple form; and she will put in a message for my local mail carrier to deliver one within the next few days, in the course of his normal rounds.   I give her my Boston address, with my Boston zipcode. 
A week passes, and no form materializes.    I do, however, get a call from a post office branch in Tennessee, of all places, telling me that I was mistaken to leave instructions for my mail carrier with them:   I would need instead to call the number of my own home branch (which number, by the way, is published nowhere).   
My mother would say, "These people are SO STUPID." 
I do eventually go to my home post office branch, to request the form one uses to permanently forward the mail of a deceased person.  The postal clerk slips it to the other side of her plexiglass screen;  I slide it into my bag and leave.    When I get home I find that she has given me the standard change of address form: not to be used for deceased persons.   
My mother would say, "Our schools don't teach people how to THINK." 
The next day I try a different post office, where the clerk hands me the same exact form.  I ask instead for the form for forwarding a dead relative's mail.  The two clerks on duty know nothing about how to forward mail after a death; but they suggest that I drop in at a third post office, where there just might be a supervisor who could possibly know the answer. 
My mother would say, "That idiot, Donald Trump, has starved our entire infrastructure – we shouldn't be surprised they screw everything up." 
She would be right. 
---
That the virus would hit the US was just starting to become clear when my mom began hospice care and slipped into a morphine haze.   I, in Boston, was caught without hand sanitizer; my brother, in LA, couldn't get toilet paper.     There is a supply of both of these things in my mother's apartment, in Florida.   
It's not that my mom had stocked up in anticipation of this particular crisis.   She was not a hoarder; in fact, she was a great believer in fairness, in not taking more of anything than one's reasonable share.    My mother had hand sanitizer and toilet paper on hand because these are things she always kept on hand, in just the right amounts.   The virus would not have caught my mother unprepared.   Little did. 
---
My mom loved baking but didn't care for cooking.  I, on the other hand, love to cook.  I often cooked when I visited her in Florida, making extra to stock her freezer.   Post-meal clean-up at my own home includes doing the dishes and leaving them to dry in the drainer, wiping down the counters, and maybe sweeping the crumbs off the floor.   In my mom's kitchen, however, it also involved hand-drying and putting away everything in the drainer, wiping down the counter and then spraying it with cleanser, and using a different, special cleanser on the stovetop, whether it had been used for meal prep or not.   I did my very best to clean to her standards every time I used her kitchen; but when I was done, she invariably went in after me, to clean up some microscopic schmutz that only her eyes could see.     
Now there are little stains on my bathroom counters.    My mother would say, "It's disgusting."   I would not use that word:  little flecks of toothpaste do not fill me with disgust.   But it is dirtier than I'd like – no surprise, since we are now three people living full-time in a 900-sq. ft. apartment that is usually peopled by two, frequent travelers at that.   Back before the plague, our wonderful housecleaner came every other week and cleaned it much more thoroughly than I ever could.   I am still paying her, but she is staying home and safe until we can all do otherwise in good conscience. 
The Wednesday after my mom dies, my husband and younger daughter go off for a (socially-distanced) hike on the beach.   My mother worried any time someone she loved got into a vehicle of any kind; she would have fretted until she knew they'd arrived at their destination without incident, and then again until they returned home unharmed.   
"Drive safely," I call after them as they leave.   While they are gone I scrub the house from top to bottom. 
A week later I say to my husband and daughter, "this place needs a good cleaning." 
"It's not dirty," replies my husband.  "Where's the dirt?  Show me some dirt.  I don't see it." 
But I see it.   And so I scrub the apartment, top to bottom, every Wednesday night.   
---
In mid-March the bodies start to pile up in Italy.  The Times runs stories about grief-stricken family members who cannot properly bury their loved ones, who cannot gather with families for funerals.  I think, "how terribly sad." 
Oh.   Right. 
Two days after my mother's death I organize a Zoom shivah, with the help of our rabbi, so that I can mourn with my brother from opposite sides of the country in the only way possible at the moment.   Now, of course, Zoom shivahs are the expected thing; less so on March 15th, when we had ours.   
It is surprisingly beautiful.    We are able to pull together a whole community of people who loved my mom, from all across the country (and beyond), many of whom would not have been able to travel even in the best of circumstances.  I see their faces and hear their stories about my mother and my heart is full beyond words. 
My mom would have loved it.  She would have delighted in triumphing over the logistical challenges of the quarantine: she was a master planner.    She would have loved seeing the faces of everyone she treasured and hearing their warm and wonderful memories of her.   And she would have been so pleased that none of them had driven to get there, so she didn't have to worry about their safety on the trip home.   
---
In the last six months of her life, after she was diagnosed with lung cancer, my mother announced many lasts.   She would announce, almost with relish, that she'd gone to her last opera, her last play, her last museum visit; that she'd baked for the last time, finished knitting her last project. 
She kept her word about the opera, the plays and the museums:  she was too self-conscious about her worsening cough to enjoy those experiences.  But she announced her final baking project at least four times; a week after such a pronouncement she'd tell me that she'd baked both a batch brownies and her signature Mandelbrodt for my upcoming monthly visit (as if, in the course of three days, I was likely to put away two full batches of cookies).   Knitting and crocheting, too, were things she did right up until the end.   Her last major project was a baby blanket for my cousin Ellen's first grandchild; my Aunt Laraine found her the pattern and the materials.  She had lost much of her vision by then, so knitting anything complex was a challenge.   That blanket, she announced, was her last project, for sure.  But Mom never could sit entirely still.   Within a week of shipping off the blanket she started crocheting scraps of leftover yarn into potholders, a project small and lightweight enough that it didn't irritate her increasingly sore shoulders.  She gave the potholders to her caregivers.   She was working on one when I saw her last, two weeks before her death.   The stitches were even and perfect. 
My daughters and I have inherited my mother's inability to sit still:  we are knitting our way through the quarantine.  Each of us has finished at least one sweater and started another.   We knit while we talk, knit while we watch movies, knit while we listen to music or just knit in silence.   We knit with my mother's hands. 
---
They are a blessing for me, for my husband, and for each other, our daughters.  It is not an easy moment for either of them.  My older daughter started a new job, in a new field, a scant month before the lockdown began, and she is trying to figure out how to get trained and acculturated while working from home.   My younger daughter is ending her senior year of college in a manner she could scarcely have imagined:  she is missing her senior clarinet recital, her friends, and all the rituals of graduation. 
My older daughter and her boyfriend built a miniature golf course in their living room out of cardboard, and they are busy designing a board game.  She meets with her virtual book club every Monday night; she has started drawing again, exercising a gift long dormant.  My younger daughter has dived into her remote classes with enthusiasm.  She has figured out a way to keep writing and working with her sketch comedy troupe; she's joined a virtual orchestra; she is studying botany and rhapsodizes about the katsura trees in the Boston Public Garden.   
My mother would say – did say -- "they are SO GREAT."   
She was right. 
---
My mother would worry, as we do, about all the small businesses whose existence is threatened by the shutdown.  Steve and I try to find ways to support them that are epidemiologically responsible.   We buy gift certificates we will never use.  We occasionally get take-out with curbside pickup. 
There is a wonderful bakery on the corner that has remained open, allowing only one or two people to enter at a time.  We go in one day, and I am dismayed to see that the salesperson is not wearing a mask, and that she is bagging the pastries with un-gloved hands. 
I spend an hour composing an email to the owner, telling him how much I love his business and how I so much want both the bakery and its employees to survive and thrive, neighborhood treasure that it is.  I express dismay at the lack of mask and gloves and attach the health department guidelines with which I would be ever so delighted if they would comply, thank you very much. 
It is an Inge move if ever there was one. 
---
I wish I could tell my mom how we made her cherry nutcake for Passover, and how it was good, but not as good as hers.  I wish I could tell her about how the girls are supporting each other; about Family Band Camp; about how Julia and I made raspberry/chocolate swirl marshmallows (way too much work for the outcome – still just marshmallows – but a good project, nonetheless).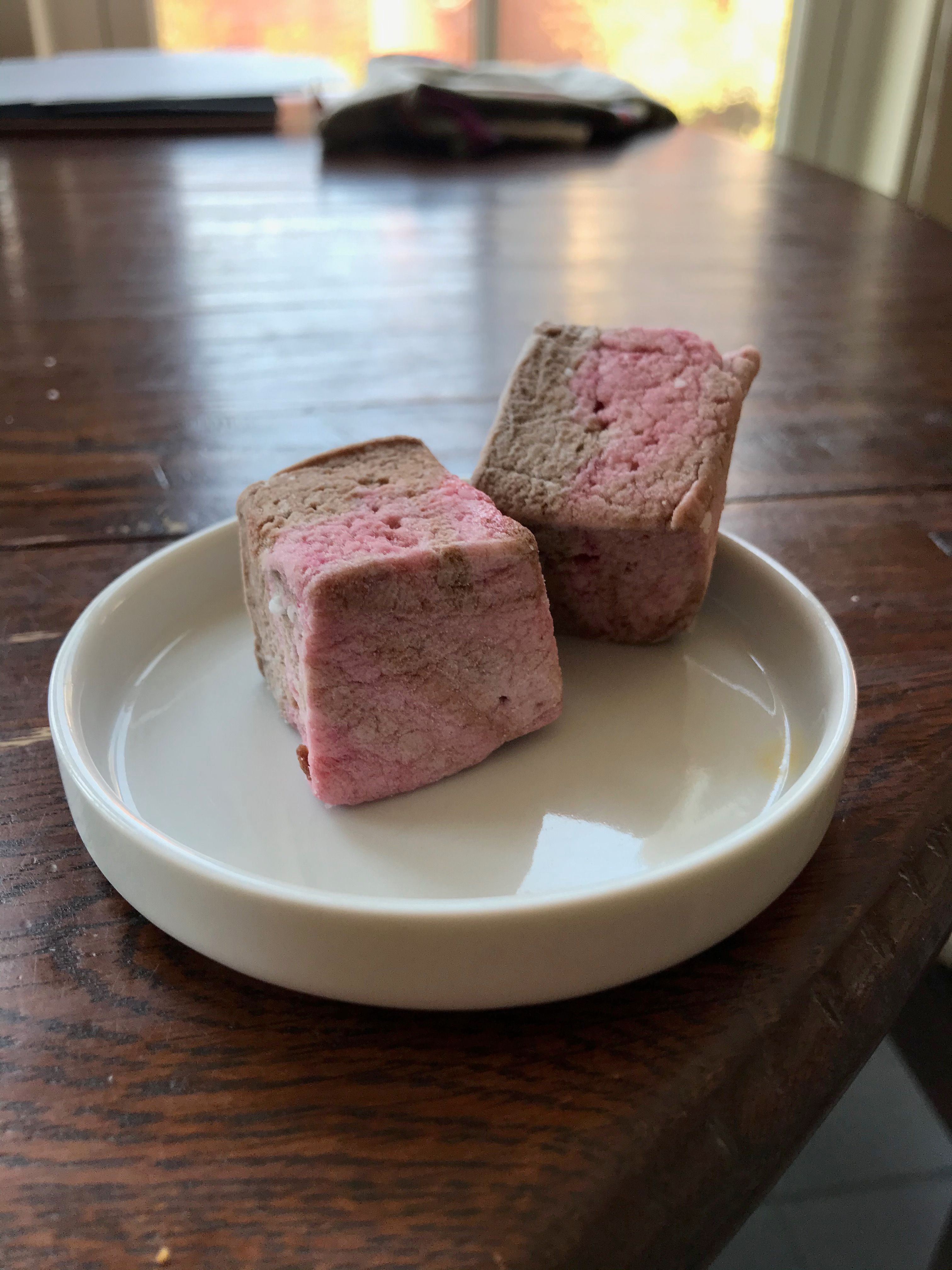 I wish I could tell her about how we have grown attached to looking out our apartment window at the Millenium Tower, a building which has definite moods:  brooding when the sky is gray, exultant on a sunny day.   I wish I could send her this picture, with the tower reflecting the sky.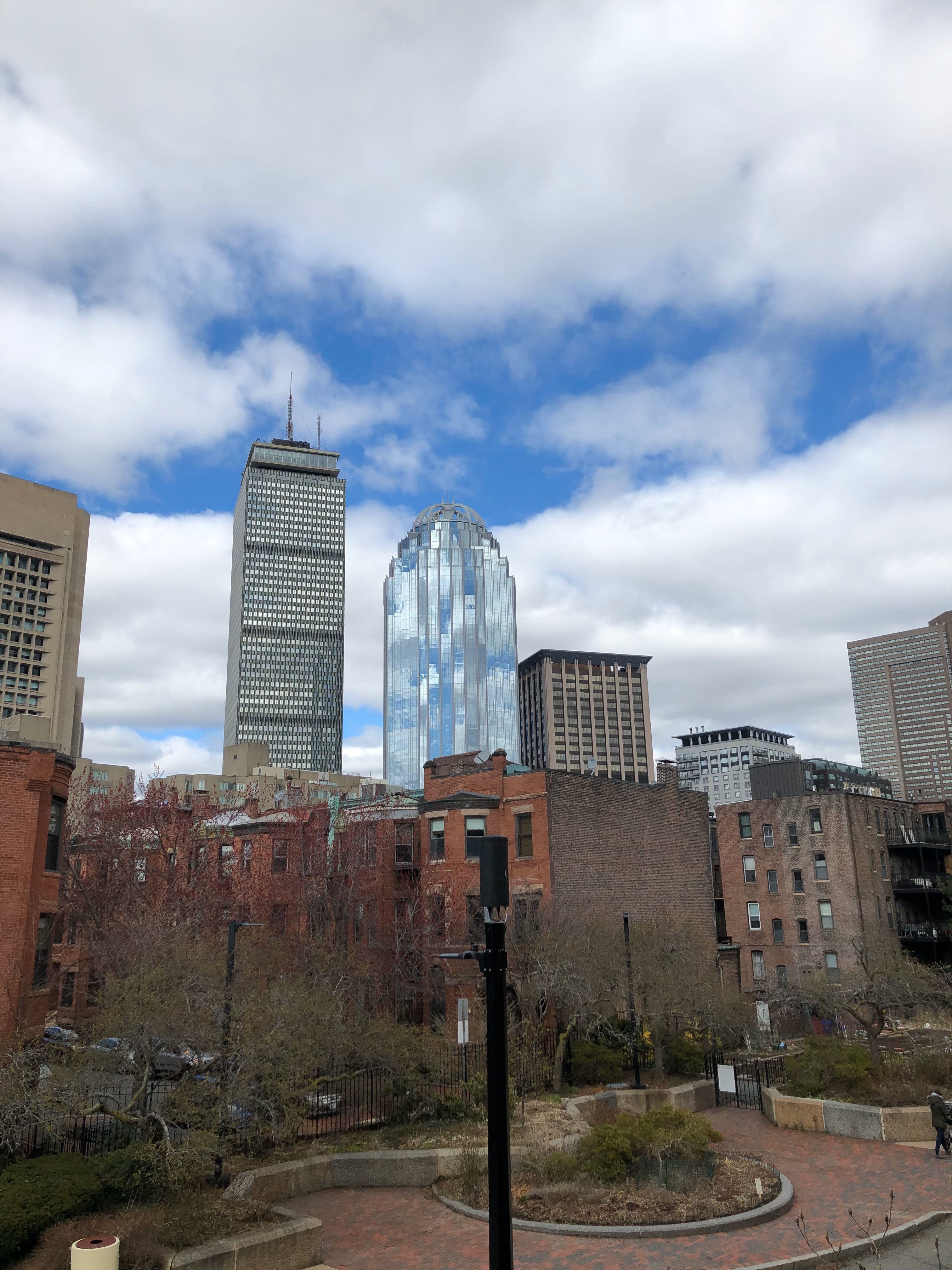 She would want to paint it. 
If I could call my mother now, she would tell me about all of the friends and relatives with whom she would surely be talking daily during their mutual quarantine:  how they are managing, their health problems, their family challenges.  I am calling some of those same friends myself these days.   I love hearing their voices.  I miss hearing hers.   
If I could call my mom she would complain about the food from the dining room:  it would be too spicy, or too salty, or too bland.    She would tell me about the lives and problems of her caregivers, or of the people who work in her building; she would worry about their health and safety in the pandemic, and about how the economic crisis was affecting their families.   
She would call the governor of Florida a moron. 
She would say, "we've gotten through worse; and we will get through this, too." 
She would be right.