The first weekend of our empty nest trial run culminated in a wild naked bicycle ride through the streets of Cambridge.
OK.   So Steve and I weren't actually on bicycles.   And we were fully clothed.   But we watched about 50 folks who were in fact both naked and cycling, whooping and hollering their way through Central Square, this past Saturday night, as we sat with friends at a sidewalk cafe.  It was in fact a steamy night, hot and humid; and my friend Lisa was very concerned lest the unclad cyclists experience painful chafing.  Lisa is an epidemiologist:  I think this will open up a whole new line of research for her.  
The more pressing question:  how many of the naked riders were on borrowed Hubway bikes?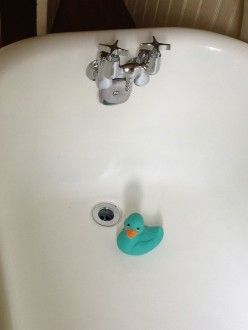 Saturday was Day 3 of our Empty Nest Trial Run. For the first time in forever, we have no children at home with us.   My older daughter has been away at college the past two years, and this summer she has an internship in another city.   My younger daughter left for a month of music camp last Wednesday afternoon.    And so now it's just me and Steve, with a relatively empty laundry basket and a glut of lettuce from our garden and farm share:  a preview of the empty nest that will be ours in three short years.   After more than 20 years of parenting, of organizing my life primarily around the needs of my kids, I've been a bit nervous about the quiet times to come.
And yet….so far our quiet week has included a spontaneous movie, several spontaneous dinners with friends (braised lettuce!  Grilled lettuce!  Spicy minced lettuce in lettuce cups!), a visit to an art installation in East Boston, a trip to the aquarium, and a night at the theater, after which we lingered to witness the naked bike ride.  I wrote most of a new song, posted my Very First Tweet Ever (follow me!   @midlifemomsongs), baked some bread, and wrote this blog.  
And thus far, no uncomfortable chafing whatsoever!   A girl could get used to this.